ASDC Environmental Sustainability Group
This is a new group which will act as a forum for sharing best practice between professionals working in Science and Discovery Centres, Museums and Eco Attractions.
Environmental Sustainability Group Chair 
Chris Dunford
Sustainability Engagement Manager, We The Curious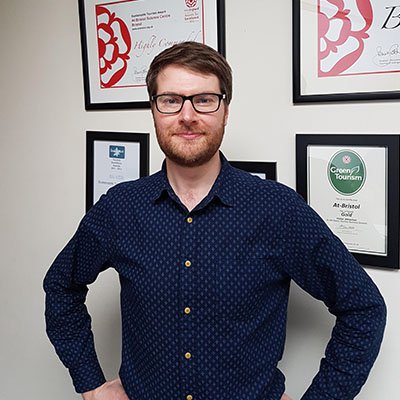 Chris Dunford has been the Sustainability Engagement Manager for We The Curious (formerly known as At-Bristol Science Centre) since 2011. During that time We The Curious has become recognised as a world leader in sustainable science centres, providing training across the sector. Chris works to improve the organisation's operational sustainability, to run public engagement projects on sustainability topics and to develop local and global partnerships around shared sustainability goals. Chris chaired the Engagement Group for Bristol's year as European Green Capital 2015 and is the Mentor Fellow on the Arizona State University Sustainability in Science Museums Fellowship. His background is in bioscience, science communication and stand-up comedy.