Wednesday 28th of September, The Royal Society, London
Pecha Kucha Session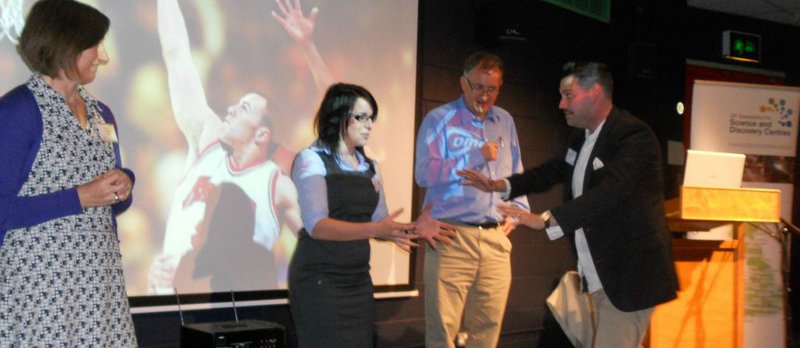 The speakers selected to be part of the lively 'Pecha Kucha' session that took place during the afternoon of the main conference programme had the opportunity (and challenge) of sharing their ideas speedily and energetically, using only 20 powerpoint slides that auto-forwarded every 20 seconds.
This fast-paced session showcased the very best of new ideas and research from people working in UK science centres, discovery centres, museums and universities.

The theme of the Pecha Kucha session in 2016 was 'Engaging Everyone: Equity and Diversity in Science Engagement'.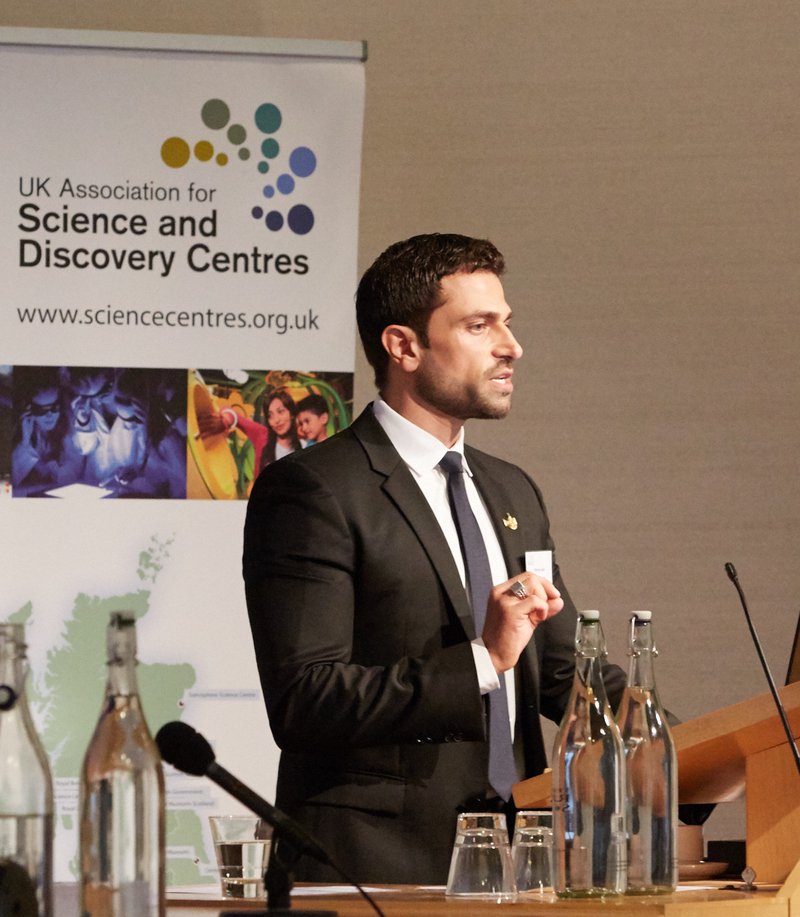 Selected Speakers
Sally Pritchard, Glasgow Science Centre

Rebecca Erskine, Dundee Science Centre

Jo Bryant, At-Bristol Science Centre

Dan Bird, Whitefire
Claire Bailey-Ross, Durham University
Nina Cromeyer Dieke, Nesta
Claire Arbery, STEM Learning Ltd
Abstracts
Sally Pritchard, Community Learning Coordinator, Glasgow Science Centre 
Raising science capital - what does it really mean for community groups? 
Situated in the heart of the former ship building hub, GSC is part of the landscape of many of Glasgow's urban communities. Over the last year alone, we've seen a 73% increase in the number of community visitors. Through a needs-led approach to inclusion and participation we endeavour to raise science capital by enabling people to actively and confidently engage with the world around them. We passionately believe that science is for everyone - regardless of location, age, capability, religion and ancestry.
Rebecca Erskine, Exhibition and Community Engagement Manager, Dundee Science Centre 

The Crunch; Reaching our communities 

The Crunch is an exciting year of activities, experiences and discussions about our food, our health and our planet. Dundee Science Centre is one of 9 partners, led by ASDC, delivering The Crunch Programme, created by Wellcome Trust. Through The Crunch we want to help people think about how our food, our health and our planet are all interconnected and the our team have been out and about across Dundee and more widely working with new communities to get people talking about the issues.
Jo Bryant, Community Engagement Manager, At-Bristol Science Centre 


A sustainable offer for socially disadvantaged communities 

How do we bring our 'community' work from the margins to the core? How can we ensure sustainability and longer term impact for the community? At-Bristol has developed a sustainable framework of Community Open Weekends that attract more than 6,000 visitors each year from the most socially disadvantaged areas of the city. Jo will describe how this has become part of At-Bristol's core offer, the challenges, benefits and what we have learnt so far - you can do it too.
Dan Bird, Wellcome Fellow, Whitefire 

How can we have more of an impact? 

It's difficult to measure the effect of a single science centre visit, as we co-exist in a complex ecosystem of science engagement. If we want to encourage long-term change in society, then we need to look at how and where we engage with our communities to build and extend their learning journeys in a financially sustainable way. Post Visit Engagement is a technique that embeds the learning after the physical visit and then provides opportunities to extend these experiences further.
Claire Bailey-Ross, Postdoctoral Research Associate in Digital Humanities, Durham University 


Using live research on the gallery floor for inclusive science engagement: What is Participatory Action Research and what does it have to do with visitor engagement? 

Can academics and science centre practitioners successfully collaborate and co-produce new gallery exhibits that enhance creativity and innovation in young visitors? Can such collaboration create engaging exhibits that can actively capture useful research data live on the gallery floor? Will being involved in live research be engaging for visitors? We will discuss Participatory Action Research as an approach for blurring the boundary between research and practice and highlight our findings to date from the Centre for Life's Brain Zone.
Nina Cromeyer Dieke, Digital Content Editor, Nesta 
Superbugs: can you survive? 

Antibiotic resistance is a huge global issue. The Longitude Prize is a five-year challenge with a £10m fund, looking for a transformative diagnostic test that significantly reduces antibiotic misuse and overuse. Superbugs is an app-based game to raise awareness amongst 11-16 year olds, a generation that will see the effects of antibiotic resistance first-hand. An easy-to-play, fast-paced, fun game, players try to survive for as long as they can against the most virulent superbugs using current and new antibiotics.
Claire Arbery, Senior Regional Network Lead - South, STEM Learning Ltd 
Latest update from STEM Learning Ltd 

As part of the Government's aspirations for more young people to be inspired by STEM subjects and to study them to a higher level, STEM Learning has a range of programmes to engage teachers through high quality CPD opportunities and inspire young people through the STEM Ambasssors' programme.
Find out about the National STEM Learning Centre and Network, and how its range of Hubs and Partnerships can work with you to promote opportunities into schools.

Related content