Wednesday 20th September 2017, Dynamic Earth, Edinburgh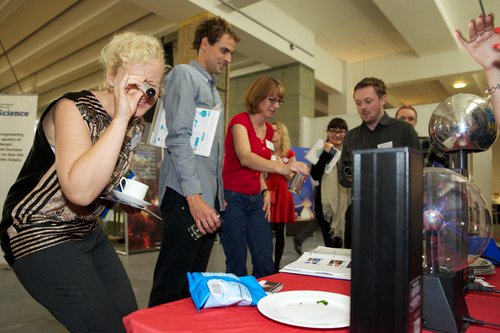 ASDC are pleased to announce that at this year's conference, we will be joined by some fantastic Exhibitors at this lively one day National Conference. The 2017 ASDC National Conference Exhibitors include: 
1. Science & Technology Facilities Council (STFC)
STFC are a world-leading multi-disciplinary science organisation, whose goal is to deliver economic, societal, scientific and international benefits to the UK and its people – and more broadly to the world.
Find out more on the STFC website
2. The Natural Environment Research Council (NERC)
NERC is the leading funder of independent research, training and innovation in environmental science in the UK. They invest public money in world-leading science, designed to help us sustain and benefit from our natural resources, predict and respond to natural hazards and understand environmental change. They work closely with policymakers and industry to make sure our knowledge can support sustainable economic growth and wellbeing in the UK and around the world.
Find out more on the NERC website
3. Explorer Dome
With fully interactive and presenter-led shows, Explorer Dome reaches 50,000 children and adults every year. Every show is an unforgettable immersive experience where new ideas, scientific interests and identity can be explored. They cover hundreds of schools and events across the whole of England, Wales and beyond. Over the years they have met over one million children and visited places from the Highlands to the Channel Islands.
Find out more on the Explorer Dome website
4. Dynamic Earth, Edinburgh
Dynamic Earth is a unique cultural and scientific learning resource where over 4.5 million visitors have walked through their doors since opening on the 2nd of July, 1999. Dynamic Earth takes visitors on an exciting and interactive journey to experience the primeval forces of nature as they shaped our planet. Visitors can journey through space and time and even go on a 4DVENTURE around the world.
Find out more on the Dynamic Earth website
5. Explore Your Universe
Explore your Universe is an exciting national project celebrating the physical sciences developed by The UK Association for Science and Discovery Centres (ASDC), in partnership with the Science and Technology Facilities Council (STFC). The aim of Explore Your Universe is to 'inspire a sense of excitement amongst young people around the physical sciences by sharing the amazing stories and technologies of STFC'.
Find out more on the Explore Your Universe website
We are still accepting exhibitors for the 2017 National Conference
Exhibitor packages range from £595-£995, and include:
Your exhibition stand in the lunch/coffee area
Two delegate places, including lunch, all refreshments and attendance to any sessions you wish
Member discount rate for the Gala Dinner
Inclusion on the delegate list
Other options available over the phone
The exhibitor package can be tailored to suit your requirements, and there is a charity discount available. Please call Heather Lampard at ASDC on 0117 915 0181 to discuss.
The previous ASDC National Conference at the Royal Society, London was attended by 120 people from over 60 organisations across England, Ireland, Scotland and Wales, with 40 delegates joining us for the Black Tie Gala Dinner at the Royal Society on the eve of the conference.