The Pecha Kucha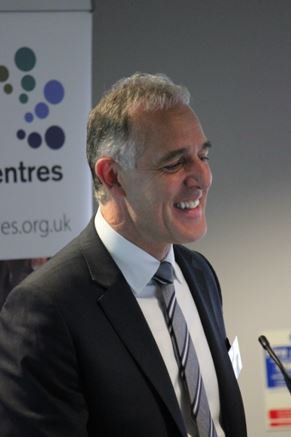 The lively 'Pecha Kucha' session takes place during the afternoon of the main conference. This fast-paced session showcases the very best of new ideas and research from people working in UK Science and Discovery Centres, Museums and Universities. The session has the theme of 'Rising to future Challenges' and is Chaired by Phil Winfield, Treasurer of ASDC and CEO of We the Curious.
The 6 selected speakers have the opportunity (and challenge) of sharing their ideas speedily and energetically, using only 20 PowerPoint slides that auto-forward every 20 seconds.
The Pecha Kucha Speakers:
Anna Starkey, We The Curious
Dea Birkett, Circus250 and Kids in Museums
Kenneth Skeldon, Wellcome Genome Campus
Chris Dunford, We The Curious (replacing Gabi Gilkes)
Lauren Deere, Thinktank, Birmingham Science Museum

Charlotte Coales, Zoological Society of London
1. Anna Starkey, At Bristol Science Centre
Evolving the science centre: asking ourselves big existential questions
Abstract
The landscape in which we operate has radically changed over the last decade. Science Centres are no longer unique access points to science. You can watch levitating magnets on You Tube, celebrity professors on TV, have a pint of pub science comedy or get involved in neuroscience experiments in an art gallery. So what implication does this have for our future role in culture? What and who are we for, and how do we stay relevant?
Biography
With a Physics degree and Science Communication MSc, Anna started out as a Science Museum Explainer and has since worked across science and the arts, from UK Particle Physics Outreach Officer and Director of Impossible Projects at a multidisciplinary public neuroscience lab, to producing televised BBC Proms and live Royal Opera House global cinema broadcasts. She series produced BBC Young Dancer and is a BAFTA nominated children's animation writer. Anna is a British Paraorchestra trustee and Fellow of the RSA.
2. Dea Birkett, Circus250 and Kids in Museums
The Science of Circus
Abstract
2018 is Circus250 - year-round UK-wide celebrations marking 250 years of circus. And circus is built on science. Did you know in 1768 the world's first circus ring was drawn 42 foot in diameter due to centrifugal forces, best enabling a rider to stand on a horse's back? Every ring since is the same size. Do you know how to juggle four balls? Can you balance on a teeter board? Science underpins circus performance. In 2018, every science centre can join in the celebrations using hands on performance to demonstrate scientific principles. Ringmaster Dea Birkett invites you to be part of the greatest show of 2018.
Biography
Dea Birkett is ringmaster of Circus250, the not for profit organisation co-ordinating the UK-wide celebrations of 250 years of circus in 2018. A former circus performer, she is also Creative Director of Kids in Museums, the charity which runs the hugely successful Takeover Day initiative. Dea is also co-Director of TextWorkshop, working with Science Centres, Museums and heritage sites on their written interpretation. In a broad portfolio career, she has also been a Guardian journalist and is now Creative Director of ManyRiversFilms, a BAFTA winning film production company.
3. Kenneth Skeldon, Wellcome Genome Campus
Keeping up with Genomics
Abstract
Genomics is one of science's most rapidly advancing areas. Such is the pace, that education curricula, science communicators, even healthcare professionals are struggling to keep up with the questions society at large are beginning to pose. How therefore, can Science Centres help engage with the genomics revolution!
Biography
Dr Kenneth Skeldon MBE is Head of Public Engagement at the Wellcome Genome Campus in Cambridge - home of the Sanger Institute and Human Genome Project. Until recently, he was Chair of the Board at Aberdeen Science Centre and among other things, co-founded the highly popular Cafe Scientifique and Pecha Kucha Nights in the city. He holds an Honorary Fellowship of the British Science Association and has been actively involved in science engagement for over 25 years.
4. Chris Dunford, We The Curious
How Science Centres can save the world
Abstract
The greatest challenge facing the future of humanity is how our species can live sustainably on this planet. Science is key to understanding, and solving, sustainability issues such as energy, resources, climate change, pollution and biodiversity loss. Science Centres are uniquely placed within society to act as hubs to engage the public with sustainability issues whilst themselves acting as sustainable institutions. This talk will explore our science centre as a case study of sustainable operations, innovative sustainability engagement projects and unique city partnerships.
Biography
Chris Dunford has been the Sustainability Engagement Manager for We The Curious since 2011. During that time the science centre has become recognised as a world leader in sustainability. Chris leads We The Curious's mission to become an exemplar sustainable organisation, and to use this journey to engage the public with global sustainability issues. Chris chaired the Engagement Group for Bristol's year as European Green Capital 2015, and is the Mentor Fellow for the Arizona State University 'Sustainability in Science Museums' Global Fellowship.
(Please note, this is a last minute replacement. Gabriella Gilkes from Eden Project is unfortunately unable to join us for the conference and Chris Dunford has kindly accepted our invitation to speak on a related environmental topic.)
5. Lauren Deere, Thinktank, Birmingham Science Museum
Science and Heritage Career Ladder
Abstract
The Science and Heritage Career Ladder is a youth development programme which has been running at Thinktank since 2008. The programme not only provides work based training opportunities for young people from Birmingham but it also diversifies Thinktank's workforce to make it more reflective of communities in the city of Birmingham.
Biography
Lauren Deere is the Museum Manager for Thinktank Birmingham Science Museum. Lauren manages the visitor operation and contributes to the strategic development of the museum.
6. Charlotte Coales, Zoological Society of London (ZSL)
ZSL London Zoo: how to communicate 200 years of science?
Abstract
Since their conception, zoos and their role in society have been constantly evolving. The Zoological Society of London (that runs both Whipsnade and London Zoos) employs over 300 research and conservation staff. ZSL is rethinking the way these staff directly engage with audiences, from public dissections of dolphins to online opportunities to follow staff in the field, and we are challenging the role that zoos can play in science communication, now and in the future.
Biography
Charlotte is the Coordinator for Public Engagement with Conservation Science at the Zoological Society of London (ZSL).  She supports ZSL scientists and experts to engage directly with school and public audiences, establishing a variety of formats to showcase ZSL's work behind the scenes and in the field.  She previously worked as a Science Communicator at the Natural History Museum in London, and has a degree in Ecology and Environmental Biology and an MSc in Science Communication.
See last year's Pecha Kucha presentations.