ASDC National Conference 2018 Exhibitors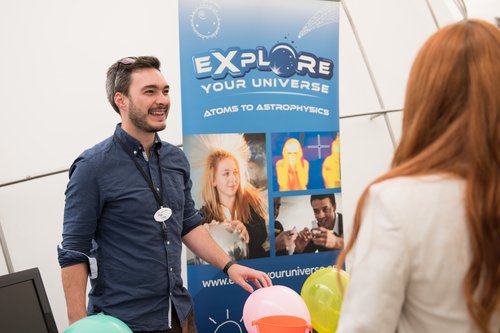 Tactile Collider 
Tactile Collider is an award-winning experience of sound and touch to feel and hear particle physics and the Large Hadron Collider. You will be able to experience and feel the event by touching a unique model of the collider and talking to the creating scientists. This unique and highly successful workshop is touring the United Kingdom visiting groups of visually impaired children and adults at schools with specially trained volunteer physicists. Tactile Collider is funded by STFC.
STFC are a world-leading multi-disciplinary science organisation, whose goal is to deliver economic, societal, scientific and international benefits to the UK and its people – and more broadly to the world.
Find out more on the STFC website
2. Natural Environmental Research Council
NERC is the leading funder of independent research, training and innovation in environmental science in the UK. They invest public money in world-leading science, designed to help us sustain and benefit from our natural resources, predict and respond to natural hazards and understand environmental change. They work closely with policymakers and industry to make sure our knowledge can support sustainable economic growth and well being in the UK and around the world. This year, Jodrell Bank will be exhibiting Operation Earth on behalf of NERC at the ASDC National Conference. 
Find out more on the NERC website
3. Food For Life Served Here, Soil Association
Food for Life Served Here work with pioneering food providers to certify their menus. For your customers, this means meals cooked from scratch, using sustainable fish, free range eggs and ingredients that can be traced back to the farm. It can also mean taking steps to make healthy eating easier for the customer. Encouraging the use of locally sourced and ethical ingredients, to support our local economy and protect the environment for the future. 

Find out more about Food For Life
4. The Secret World of Gases, Eureka! The National Children's Museum
The UK Association for Science and Discovery Centres (ASDC), The Royal Society of Chemistry and BOC, the UK's biggest industrial and medical gases company, are delighted to announce the launch of a new Partnership bringing together some of the most fascinating and diverse chemistry in the country with the talents and infrastructure of the nation's largest network of science engagement organisations.
The Secret World of Gases programme has been developed with expertise from ASDC, The Royal Society of Chemistry and BOC with additional development from Winchester Science Centre and Arcola Energy. This year, Eureka! The National Children's Museum will be showcasing activities and equipment from The Secret World of Gases. 
Find out more about The Secret World of Gases
5. Huettinger Interactive Exhibitions
Hüttinger is a one-stop shop for exhibition planning, design and fabrication, working for clients throughout Europe and on an international scale. We develop exhibitions that promote exploration and understanding through multi-sensory experience.

Our preferred method of working is the design-and-build approach. This, together with a large in-house capacity, enables us to plan and provide turnkey solutions within a single project cycle, resulting in time savings, cost savings and, ultimately, a far more satisfactory exhibition. The essential prototyping is integral to the entire process. As a result, our clients get the best value for their money. Where the design-and-build approach is not the preferred option, we are happy to work as designers or fabricators, bidding separately for the different project phases. The Management System Standard certified by DNV conforms to ISO 9001:2015.

Find out more about Huettinger
6. Science and Industry Museum
The Science and Industry Museum is devoted to inspiring our visitors through ideas that change the world, from the Industrial Revolution to today and beyond.
It's a story that we're uniquely placed to tell—on the site of the oldest surviving passenger railway station, in the heart of the world's first industrial city, today alive with innovative discoveries in science and technology.
Find out more about the Science and Industry Museum
7. VR Education Holdings
VR Education is a multi-award-winning virtual/augmented reality ('VR/AR') software firm dedicated to changing how educational content and corporate training are provided and consumed globally. Dual listed on the London Stock Exchange AIM and Irish Stock Exchange ESM, VR Education is at the forefront of virtual and augmented reality in the education and simulated training space.

Find out more about VR Education Holdings
8. Event
Event is the leading experience design agency in Europe, recognised internationally for its consistent ingenuity, design and storytelling excellence and exemplary project management. We produce masterplans for museums, heritage attractions, cultural quarters as well as brand and corporate experiences. We create interpretive and interactive design concepts, along with full technical specification and creative direction of permanent and temporary exhibitions. We provide integrated programme and cost management for many of the world's largest experience projects. A key to our success is the integrated way we work with clients to understand their brief and realise their ambitions.

9. ABA Science Play
A.B.A Science Play heralds a revolution in outdoor play and learning. The Company offers first-in-class playground equipment products fusing traditional fun-play with hands-on science-learning. ABA inventiveness and engineering-innovation introduce games that excite the imagination and encourage both collaboration and competition. "Children" of all ages play through scientific phenomena and always win a better understanding of the world we live in.
Find out more about A.B.A Science Play