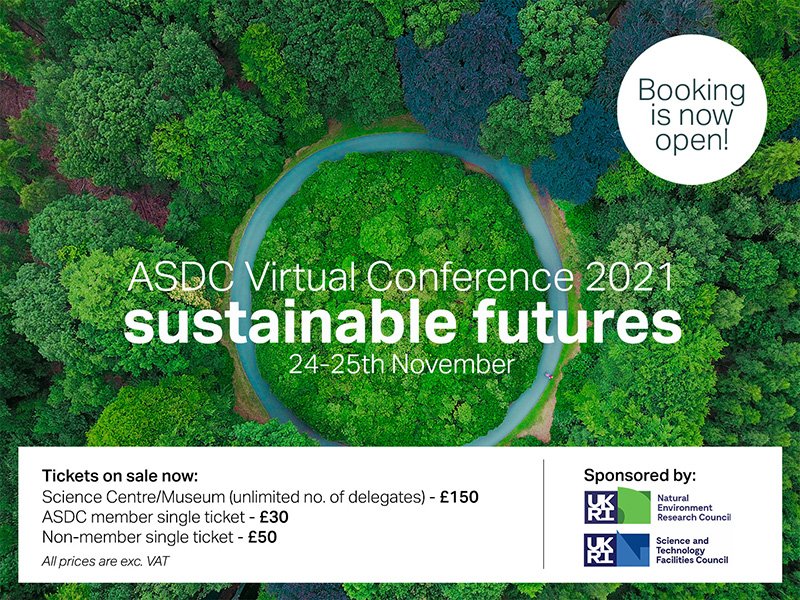 ASDC Virtual Conference 2021: Sustainable Futures, 24th-25th November
We're pleased to announce the booking for our conference is now open. Click here to register and book your tickets on Hopin.
This two-day virtual event will focus on Sustainable Futures, with keynote speakers for each of the sub themes:
Sustainable Futures - Resilience reflecting on the lessons we have learnt and looking to the future of science centres and museums
Sustainable Futures - Diversity how our sector reaches towards greater diversity, equity, inclusion and accessibility
Sustainable Futures - Environment the outcomes of COP26 and our next steps together as a sector
Throughout the conference there will be discussion tables and bespoke workshop style sessions for ASDC members and the wider STEM community, bringing together inspiring practice and new ideas for 2022 and beyond.
View the programme for the conference here.
Virtual and accessible
This year's ASDC conference will allow more delegates than ever before to attend with a new ticket option for Science Centres and Museums to invite employees from different departments, opening up access to conference sessions and networking opportunities for your whole team.
Celebrating and socialising
With live streaming from science centres and museums around the UK, we're very excited to host the first ever ASDC virtual networking quiz! Gather your teams to enjoy our final inspirational key note speaker and then get competitive for our interactive quiz as we link up with centres around the country to play for highly desirable prizes and re-create the fun, networking and social celebration of being together for the ASDC conference.
Ticket options:

Science Centre/Museum (unlimited no. of delegates) - £180
ASDC member single ticket - £36
Non-member single ticket - £60
Prices include VAT
Book your tickets here
With thanks to our sponsors STFC and NERC