The lively 'Lightning Talk' session will take place on the Thursday afternoon of this year's National Conference.
This is a fast-paced showcase where delegates can share new ideas, brilliant projects, powerful messages and the very best research from those working in UK Science and Discovery Centres, Museums and Universities.
All conference delegates are invited to take up the challenge of sharing their ideas speedily and energetically, using only 20 PowerPoint slides that auto-forward every 20 seconds!
With just six showcase spots available, applications should embody the theme of this year's conference 'Vision 2030'.
TO APPLY CLICK HERE
The deadline for applications is 11pm on Tuesday 27th August 2019.
Some suggested areas of interest taken from our membership survey are below, this is by no means exhaustive and we look forward to receiving your applications!
Science Centres for the next decade
Future Skills & Careers
Diversity, Equity, Inclusion and organisation-wide change
Climate change and Environmental Sustainability
AI, Machine Learning and Big Data
Staff retention, training and new talent
Addressing challenges of Brexit
Increasing connectivity and globalisation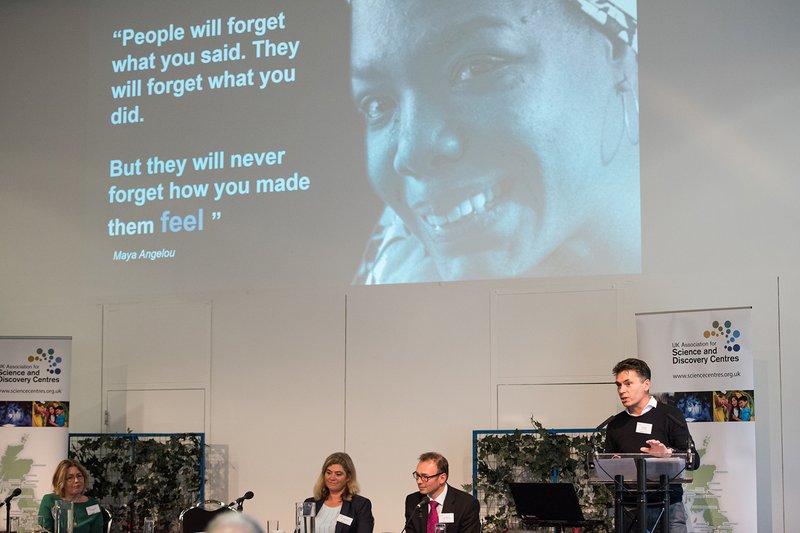 Last year's speakers included:
Dr Sheila Kanani, Royal Astronomical Society
Will Hunter, We The Curious
Susan Murabana Owen, The Travelling Telescope
Dom McDonald, The Royal Institution
Clio Heslop, British Science Association
Vicky Clifton, National Science and Media Museum
Brendan Owens, Royal Museums Greenwich
For more information on last year's speakers, see here