The 2019 ASDC National Conference Vision 2030 was a fabulous two days packed with thought-provoking speakers, inspiring keynotes, specialist meetings and focused discussions. We were delighted to see all of you and hear about new approaches and explore new ideas from across the UK. We hope you had the opportunity to meet new colleagues and re-connect with old, and reflect on shared future ambitions and strategies to inspire learning into the future.
This year the Conference Theme is 'Vision 2030'.
The conference offered opportunities to explore together how our agile charitable organisations, based in over 50 cities, regions and communities across the UK, want to evolve and adapt into the future. The conference looked at our collective visions for 2030, especially focusing on our two key themes around :
Inclusion and learning, and how we become more reflective of the communities we serve, in all we are, and in all we do.
Climate and how we as a sector can make a dramatic step forward around carbon and sustainability and how we support others on this journey.
You can download the programme below:
ASDC National Conference Programme
Click to see the photos from the 2019 Conference
Day 1: Discussions and networking, Wed Nov 20th
The 2019 ASDC AGM
11.00 - 13.00
Members and delegates were invited to join us the 2019 ASDC AGM on Wednesday 20th November from 11.30am to 12.45pm at the Smith Centre in the Science Museum, London to join us for the ASDC Board and executive team and hear about the ASDC highlights from the past year, elect new trustees, welcome our new Chair and review our finances. There was also be a membership discussion and information on ASDC strategies and partnerships for the coming year. For details on the ASDC Board, see here ASDC Board. 
ASDC Specialist Meetings
Networking with tea and coffee 13.30 - 14.30
Specialist Meetings 14.30 - 17.00
Back by popular demand we hosted lively discussion sessions across our national specialist groups. They were more in depth this year, focused around the following themes and all delegates were welcome to attend and participate in these. These have been set up as members asked for more time to discuss topics than just on the conference day, it gave us a lot more time and opportunity to meet colleagues and lots of great ideas were shared and discussed throughout the afternoon.
The discussion sessions covered were the following themes:
Education & Inclusion
Climate & Sustainability
Marketing & Digital
Education and Inclusion
Chaired by Shaaron Leverment, Deputy CEO at ASDC
Session 1: Ben Johnson and Rebecca Hurwitz, Graphic Science
Do we know who we are? - A snapshot profile of Science Centre staff and visitors
Science centres increasingly focus on diversifying audiences and ensuring that science centres are socially equitable places that are welcoming and accessible for all. But what do we really know about centre staff and visitors? To what extent are they representative of the wider population? And how can tracking this data help us to understand and develop centres towards greater social justice and improved financial sustainability?
In this short talk we present a snapshot of staff and visitor survey data collected by centres funded through Wellcome/UKRI Inspiring Science. It will be an opportunity to discuss how this confirms and/or confounds your expectations, reflect on what this means and consider ways to collect more and better data from across the sector.
Session 2: Bridget Holligan and Mike Dennis, Science Oxford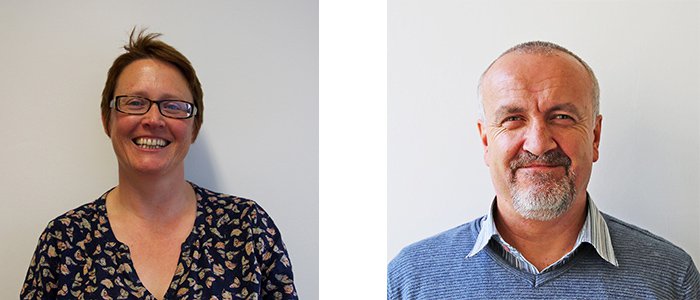 The Value of Talk for Informal Science Learning
Enabling audiences to think and talk and developing strategies for eliciting responses and stimulating discussion in accessible and inclusive ways, is part of best practice for science education and engagement. There is plenty of evidence for the role it plays in supporting learning in science and it is also a feature of 'science capital in practice' approaches.
In this session, Mike Dennis and Bridget Holligan, will share some of the techniques that they use at Science Oxford for encouraging talk in a range of contexts and will invite others to share their own examples. They will facilitate discussion about the benefits and challenges of optimising programmes for science talk.
Climate and Sustainability
Chaired by Dr Penny Fidler CEO at ASDC
Session 1: Chris Dunford, Head of Sustainable Futures, We the Curious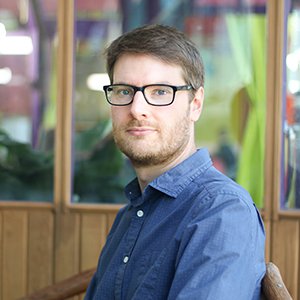 The Carbon Neutral Science Centre
Carbon neutrality by 2030 - what does it mean and how do you achieve it? We will outline the internal strategy, structures and teams you will need to make this happen, how to build exhibitions and installations in an environmentally responsible way, and how to link your public programmes and comms to your organisation's climate pledges. We will also discuss how to focus on environmental procurement, waste, travel and biodiversity, and what the Science Centre's role is in achieving a carbon neutral city.
Session 2: Catherine Fitzsimons, NCEO, Outreach National Centre for Earth Observation
How much of climate change can we measure from Space?
What can Earth observation tell us about climate? What does ESA climate office have to share and how would you use this latest data? How can we make it better?
Marketing & Digital Meeting
Facilitated by Abi Ashton, Project Manager at ASDC. Maximum capacity for this session is 20 people.
Session 1: Malika Andress, ASDC Marketing Chair and Head of Marketing at the National Space Centre
Sharing success:big positives and big Science Centre staff and visitors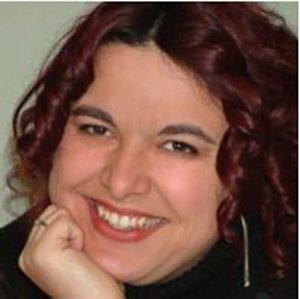 Session 2: Simon Jones, Managing Director, Digital Visitor
Approaches to drive additional reach
Simon has been involved in marketing for over 20 years and has excellent experience working both client and agency side. He has had the pleasure of working with some of the most exciting brands you will encounter across multiple sectors. As the managing director at Digital Visitor, he has been at the forefront of developing social media services to drive real tangible benefits for their partners.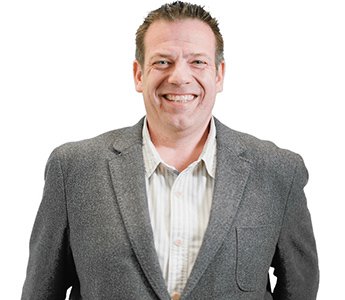 ASDC Annual Conference Dinner & Drinks
Arrival Drinks 19.00 - 19.30
Dinner 19.30 - 22.00
Restaurant: MK Bar and Grill
On the Wednesday evening conference delegates and their guests are invited to join the ASDC Chair and Board of Trustees, CEO and team and colleagues from across the UK for a fun, informal dinner and drinks at a nearby restaurant. We will arrange the evening so everyone gets a warm welcome, even if you are new to the sector.
Delegates can meet others with similar ambitions and roles over dinner and drinks, and share ideas, projects and plans.

Thursday 21st November: Day 2
Welcome to the main day of the 2019 ASDC National Conference. Day 2 was held in the gorgeous new Illuminate area of the Science Museum with views out across London.
The day was packed full of lively, sector-leading talks including keynote speakers, expert panel discussions, new ideas and views of what the future holds. There was also lots of opportunities to exchange ideas and meet new people, especially across the discussion tables addressing a host of topics, and the fast-paced Lightning Talks sharing ideas from across the sector.
Take a look at our Guest Speakers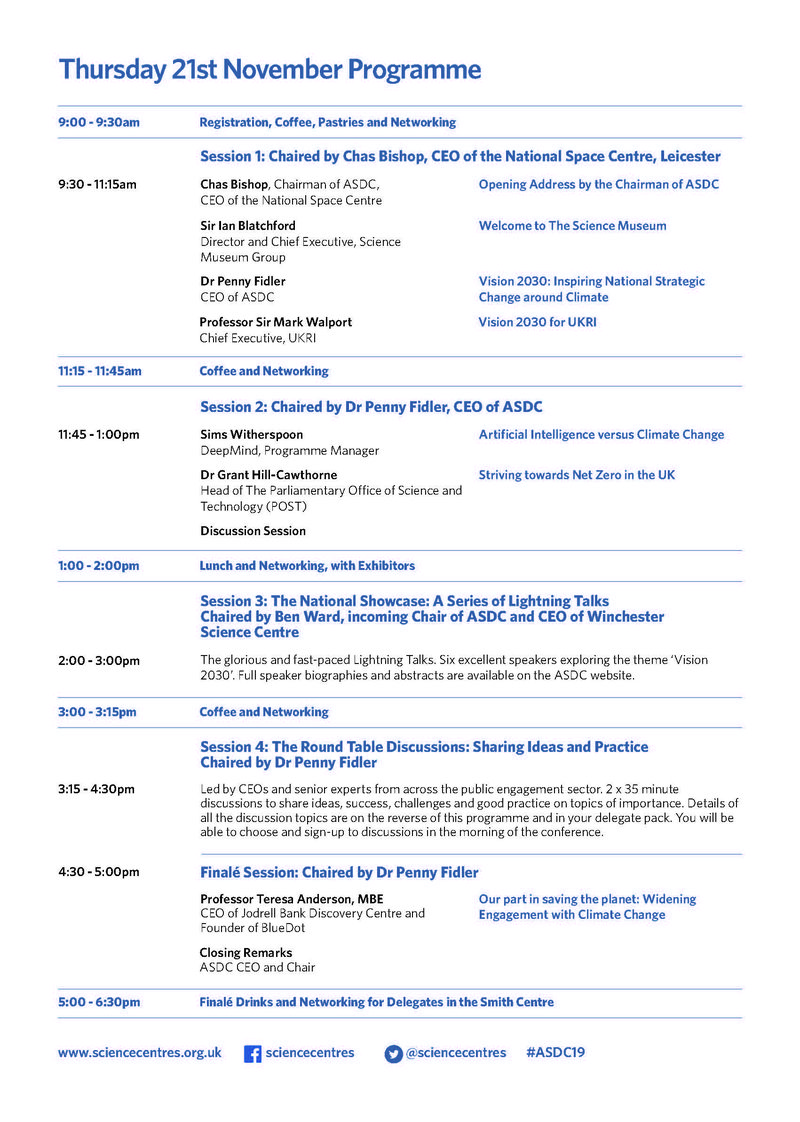 For the latest announcements follow us on Twitter (@sciencecentres) and sign up to our monthly newsletter!
Take a look at the photos from the conference