Welcome to the 2020 ASDC AGM on Friday 23rd October, 11am - 1pm
ASDC Members and prospective members are invited to join the ASDC Chairman, CEO, Board and team for the 2020 ASDC AGM on Friday 23rd October from 11am to 1pm
This year the ASDC AGM will be online with a Zoom link sent to all who have registered.
Please register here in advance.
Join the ASDC Board and executive team to hear about the ASDC highlights from the 2019-2020 year, to elect new trustees and to review our accounts. The AGM will also reflect on the past 6 months and look ahead to the future, discussing the significant impacts of Coronavirus on the UK Science, Discovery Centre and Museum sector.
At the AGM, the gathered membership will also elect new trustees to the board. For further details on this, visit the dedicated page on Trustee elections.
For details on the current members of the ASDC Board, click here.
Attendance at the AGM is free to all ASDC members
ASDC AGM 2020 Agenda: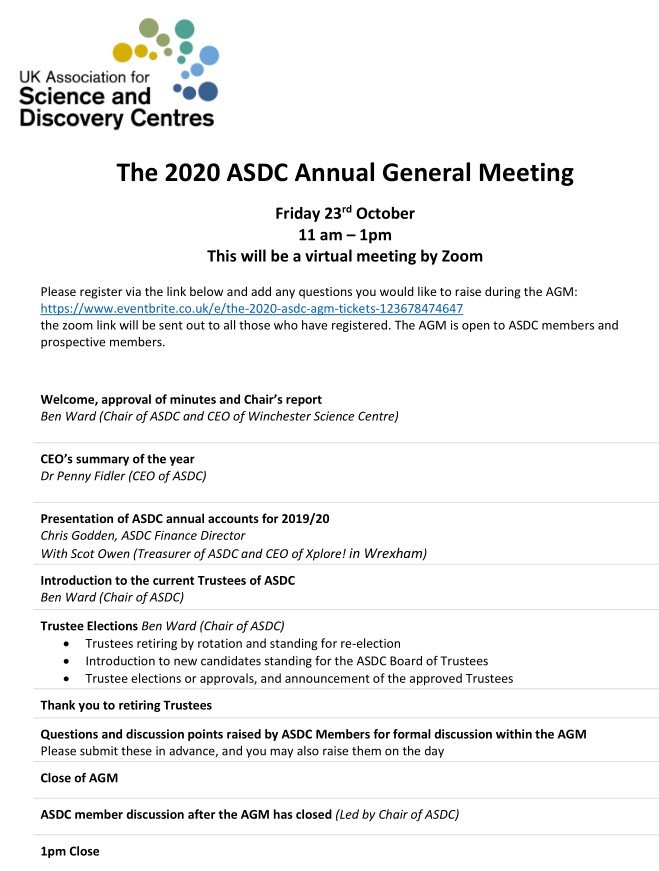 AGM Papers
2019 - 2020 ASDC Approved Accounts
Candidates standing for the ASDC Board of Trustees
The list of current ASDC Trustees is on our Trustees page
Registration is required to attend this event. Registration closes on 22 October 2020
Please add any questions you would like to raise in the AGM
Please register here