Financial Planning and Community actions during temporary closure of your Science Centre or Museum
Wednesday 25 March 2020
2pm – 3.15pm
This will be a Zoom call and details will be sent once you have registered.
Please register on the Eventbrite.
Note from the ASDC CEO: On Monday March 16th, the Government advised that people should avoid social venues and work from home where possible. Most of your organisations closed to the public the next day. On Wednesday the conference call focussed on the closures and HR and financial planning. On Thursday, ASDC agreed a way with BEIS to put in submission for emergency measures to science centres and collected and collated information from 15 centres and put in a bid for £34 million to BEIS. Last Friday a financial 80% package was announced for furloughed staff in certain sectors. The Key message is Stay At Home.
Over the weekend I have also discussed with ITU and emergency doctors what is the urgent need, and what our sector, with its huge social media links and understanding of science, could do to help this and next week.
This call is for you to find out about, and share and with other CEOs and senior managers information relating to:
The Government's 80% furlough funds, and information on grants.
Financial planning and business critical actions
What we as a sector can do to get the message out to prevent the spread of infection.
Our next Coronavirus call will focus on the digital and creative ideas you all have, and we can share to support one another, schools, our communities and our sector during this time.
This meeting by phone follows on from the last two, on March 11th and 18th where 40-50 senior staff from 30 organisations shared their current plans and actions in relation to Coronavirus for the help and support of all centres.
This Conference Call is open to all ASDC members, and others by invitation.
Please register via the Eventbrite link below.
The Zoom link will be sent out the morning of the call.
All participants must register by 10am the morning of the call (or email us)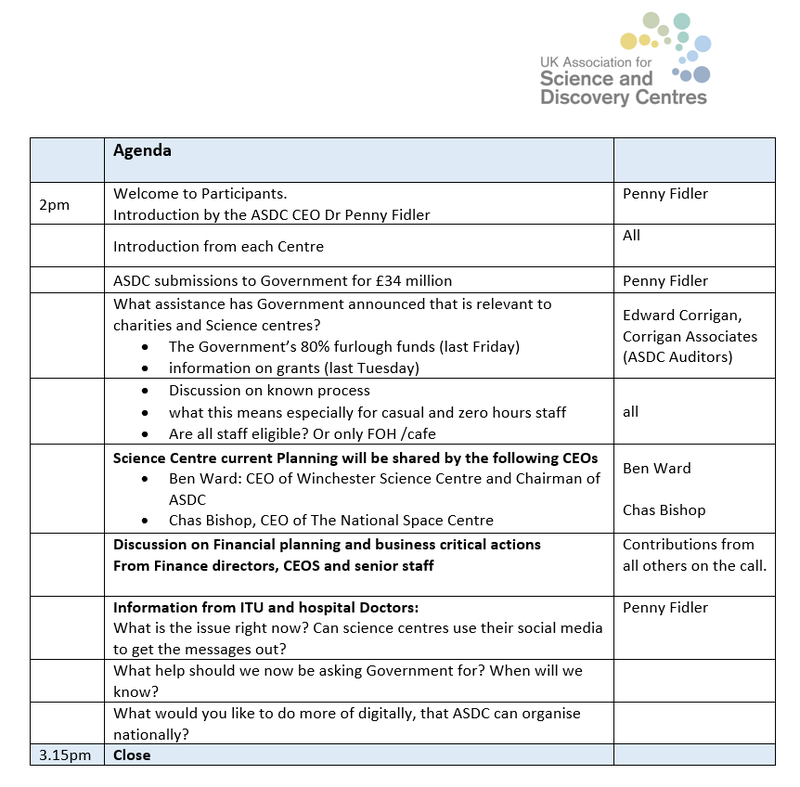 The last Coronavirus phone meeting was on 18 March and covered the following:
How is your Science Centre or Museum responding to Coronavirus after the Prime Minister's daily announcements during the week commencing 16th March?
Do you and other cultural venues in your city have plans for closure?
What date are you planning to close?
What percentage of your staff are currently self isolating, and how are you managing this?
How long are you budgeting your closures for and how is this affecting your annual finances?
What is your policy on paying staff during self-isolation or sickness, and how have these changed?
What will your staff be doing during a planned closure?
Does closed mean closed to the public or closed to all staff?
All participants must register by 10am the morning of the call (or email us)
Please ensure you are in a meeting room for this call (or have a mute button) as this will be a large call and everyone on the call will hear your background noise. Please dial in a little before 2 pm.