The theme for this year's event is 'Science as a Human Right'. Seventy years ago, the UN adopted the Universal Declaration of Human Rights, and article 27 of this charter guarantees that everyone has the right to "share in scientific advancement and its benefits". 
UNESCO is therefore marking the 70th anniversary of the declaration by introducing the theme for annual World Science Day for Peace and Development. This is held on November 10th each year when UNESCO and Science Centres around the world celebrate International Science Centre and Science Museum Day.  
Participating is easy. Your involvement can range from something as simple as putting your dot on the map and labeling your existing programs and exhibitions as 2018 events to creating a totally new experience for your visitors.
As the most influential, collective force for engaging the public with science, technology, and related civic decision making, this is a fantastic opportunity for Science Centres and Science Museums to celebrate and share their missions for engaging millions of people every year through informal Science education and engagement activities.
Click here for more details on how to share your story.
Addressing the Sustainable Development Goals
Science Centres and Science Museums are invited to share their institution's story of how they are addressing the United Nation's Sustainable Development Goals through exciting exhibits and inspirational programmes. 
 More information on the Sustainable Development Goals.
Newton's Apple Seeds 2nd birthday
In 2016, ASDC provided 21 Science Centres and Museums across our network with seeds from the original tree that inspired Sir Isaac Newton, donated by Woolsthorpe Manor.  
The CEO of ASDC Dr Penny Fidler said, "We are delighted to be able to celebrate the day by sharing Newtons's apples seeds with families and the public through the impressive network of UK science centres. As a nation and a global society we have some major challenges ahead that will take scientific creativity and entrepreneurship to solve. Science Centres and Museums are at the heart of bringing the latest science to the public across the UK and helping children and adults to get involved with science in a hands-on and inspirational way, building the skills we need to create a better world for the future."

For last year's International Science Centre and Science Museum Day, ASDC and project partners celebrated the one-year anniversary of our Newton Apple Trees by sharing pictures, press releases, blog posts and stories of how Centres have used their trees to inspire and engage the public with Sir Issac Newton's story and how his curiosity was the key to his revolutionary theories that shaped modern scientific thinking. 
Find out more about the project here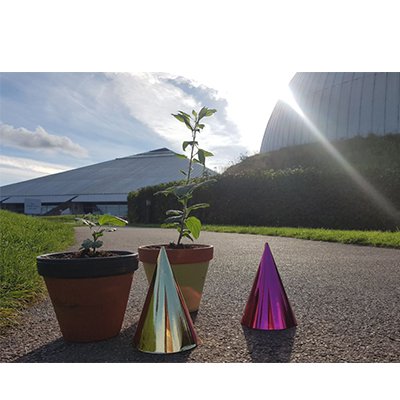 Image credit: Winchester Science Centre