The deadline for this job has passed, and is shown here for historical purposes only.
Deadline: 5th July
Salary £30,000
Role overview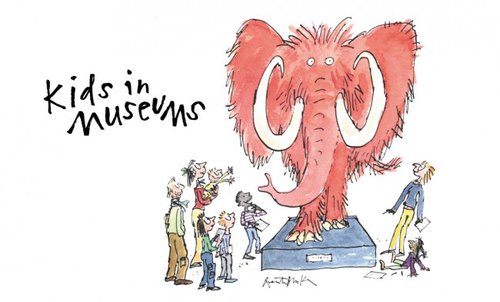 This is a new role at Kids in Museums and will play a key role in delivering our support for the museum and heritage sector over the next four years. The role will focus on reaching out to museums of all sizes across the UK to engage with our work, commissioning and developing content to support museum staff and raising the profile of Kids in Museums. We are looking for someone who is keen to take the next step in their career in communications with prior experience of content creation, communications or marketing, who is passionate about museums and heritage and wants to enable Kids in Museums to raise its profile and increase its impact by working with more museums and museum professionals.
About Kids in Museums
Kids in Museums is a national charity dedicated to ensuring that all children, young people and families feel welcomed and involved in museums and other heritage sites. In recognition of its excellent track-record and future ambitions, Kids in Museums was selected by Arts Council England to be a Sector Support Organisation for the museum sector from April 2018, funded as a National Portfolio Organisation. This is an exciting time to be joining Kids in Museums. Following an organisational development project funded by the Heritage Lottery Fund, we are implementing new ways of working supported by a new staffing structure. This will enable us to expand and increase the impact of our core programmes - Takeover Day, Family Friendly Museum Award, online information and resources and our Manifesto - as well as develop new programmes. To support our future plans, we are recruiting several new roles of which this is one.
For more information about Kids in Museums see www.kidsinmuseums.org.uk
Role description
Content creation
In collaboration with the Head of Programmes develop a long-term plan for Kids in Museums content creation.
Work with the Head of Programmes to develop the Kids in Museums Manifesto including running campaigns with families to understand their views of museums, updating the Manifesto to reflect these views, promoting the Manifesto to museums through our own channels and working with MDOs to increase sign ups and developing creative and practical online resources to help museums use the Manifesto.
Work with museum staff and other stakeholders to identify needs for new online resources, researching partners for new resources, commission resource authors and managing the process
Research, create and commission content for the Kids in Museums website including video, written and audio content. Ensure this content is distributed across social media channels as appropriate.
Develop and maintain good relationships with our primary audience (museum staff) to ensure that content meets their needs and Kids in Museums is being responsive to the museum and heritage sector.
Communications and Marketing
Explore the feasibility of creating a Kids in Museums newsletter and deliver as appropriate.
Work with Executive Director to create a Communications Strategy and organisational key messages.
Proactively seek editorial coverage for Kids in Museums (both overall work of charity and key projects) and manage all aspects of media campaigns.
Build relationships with media relevant to Kids in Museums activities.
Manage Kids in Museums social media presence.
Create copy and source images for small scale marketing campaigns to promote Kids in Museums and key projects such as the Family Friendly Museum Award and Takeover Day.
Training and events
Lead on the delivery of the annual Kids in Museums Carnival, working closely with the Head of Programmes and Executive Director to create an event that shares best practice and highlights the value of Kids in Museums to museum staff.
Support the development and delivery of Kids in Museums training as appropriate. Administration and programme support
Lead on the maintenance of the Kids in Museums website.
With the Office and Volunteer Coordinator, manage the annual Family Friendly Museum Award.
Support the development of policies and processes relating to social media and communications.
Monitor and report on social media and website analytics according to agreed targets.
Liaise with other staff members to ensure that appropriate print resources are available for projects such as Takeover Day.
Work with the Office and Volunteer Coordinator to set up and maintain a Kids in Museums image library.
Support the implementation of project evaluation across the organisation.
Person specification
Essential
Understanding of the work of Kids in Museums and passion and enthusiasm for working for an organisation that promotes engagement with heritage for families, children and young people.
At least three years' experience in a relevant field (either digital content creation, communications or marketing).
Experience of commissioning creative content and managing relationships with external suppliers.
Experience of managing and contributing to media campaigns with print and online media.
Organised and focused approach to work with the ability to juggle multiple deadlines and priorities.
Good team player with the ability to work collaboratively with colleagues and external partners.
Excellent written and spoken communication skills.
Experience of website editing and use of content management software.
Experience of contributing to or managing an organisational social media account.
Experience of using a CRM system to manage relationships with stakeholders and audiences.
Desirable
Educated to degree level.
Previous experience of managing an email newsletter.
Experience of using MailChimp.
Experience of using WordPress.
Experience of managing and setting budgets.
Awareness of data protection issues particularly in relation to images and data from children and young people.
Awareness of the importance of evaluation and different evaluation techniques.
Awareness of trends in social media, digital content creation and heritage and museum marketing.
Related content