UK Science and Discovery Centres: Effectively engaging under-represented groups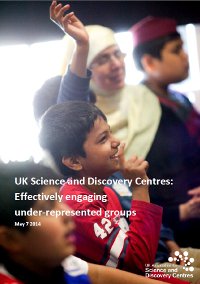 The UK's future economic success and growth depends on us building a world-leading knowledge-intensive economy underpinned by an exceptional STEM workforce. However, not all parts of society are currently equally engaged or represented in UK science and engineering. This needs to change.
We want to ensure girls, and young people from every background have fair and open access to these hugely exciting and rewarding STEM careers. We also want to ensure all parts of our society feel sufficiently confident to contribute to science and society discussions and that science is celebrated as a vital part of UK culture.
Science engagement organisations within the ASDC network in all parts of the UK run a large number of science programmes working directly with under-represented groups on a large scale. For this reason the Department for Business, Innovation and Skills (BIS) commissioned ASDC to write a report with a series of case studies to share knowledge and best practice of the STEM programmes and activities that are already successfully reaching these groups everyday across the UK.
This report covers interventions addressing three specific groups of society who are under-represented in STEM; school children and families from socio-economically disadvantaged areas, school children and families from a range of ethnic backgrounds, and women and girls in physics and engineering. For each we have sought a series of case studies showcasing what works, and what is successful in attracting people to participate in science. Engaging wider audiences is not only needed as a matter of societal equity, but for our future well-being and economic growth.
May 7 2014