We are thrilled to welcome Unusual Projects Ltd as an Associate Member of ASDC, joining us to support the work we do with science centres and museums around the UK. They specialise in bespoke and unique design development, build and installation of interactive exhibits, scenic set works and models for the heritage and science centre sectors. Carol Fenner, Development Director, has the following to say about the new relationship with ASDC and the work they do.
"Unusual Projects strives to make science and engineering more accessible to a wider audience, not just through our exhibits but through our working practises. We actively support and promote Women in Engineering and aim to engage in STEM campaigns. We love what we do, and what we do best is design and build museum exhibitions and exhibits. Our reputation is for collaborative design, working with our client teams to create exciting and engaging exhibits to help your visitors learn through participation."
Our team members have vast industry experience and have worked for institutions including Science Museum, London, Glasgow Science Centre, Historic Royal Palaces, Historic Environment Scotland, Centre for Life, Thinktank, Tower of London and English Heritage to name but a few. We work closely with our clients to understand the principles requiring interpretation and apply our experience to ensure that we deliver exhibits that enthrall visitors of all ages. We strongly believe that the very best interactives are immediately engaging, intuitive to use and the take away message has to be clear and simple - learning through play is one of the most effective ways to learn.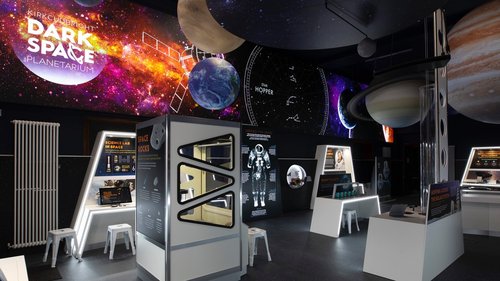 We excel in working collaboratively, both with clients and other contractors as a creative team and prefer to be involved in the whole creative process, as much as in the 'nuts and bolts' mechanics. It is important for us to work with our clients to fully understand the aims and outcomes for each interactive to ensure that the interactive we collaboratively create is one which meets as many learning outcomes as possible.
All works are warranted by Unusual Projects for twelve months as standard, if required we can extend this warranty period or enter into on-going maintenance contract to ensure that the visitor experience continues to be of the highest standard. We work closely with our customers from day one to fully understand the in-house maintenance capabilities available and advise accordingly through the design and build phases. Remote software support is included as standard. We can also itemise and supply spare parts if required, alternatively, they are also listed with full supplier contact details within the Operations & Maintenance Manual which is supplied during the handover and training phase of the project.
Our reputation is based upon the quality of our work, so it is very important to us that our interventions are well maintained and remain looking as great as the day they were installed, we pride ourselves upon the high level of support we offer our customers post project.
Why work with Unusual Projects? We have the experience, systems and quality focus of a large company within a smaller, more focused and enthused new team. Our experience and flexibility allow us to work dynamically on projects and our clients appreciate the spirit of collaboration, creative problem solving and adaptability that we bring to all our projects.
You can visit their Associate Member page here.