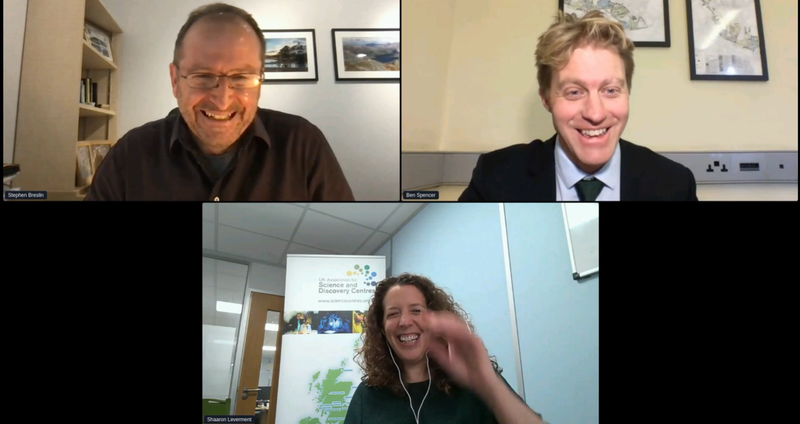 Screenshot of the welcome speech with Dr Stephen Breslin, ASDC Chair and CEO of Glasgow Science Centre (top left), Dr Ben Spencer MP (top right) and mid-wave Shaaron Leverment, our Acting CEO.
The ASDC Conference 2021 was a huge success, bringing together employees from science centres and museums, STEM and science engagement professionals for two days of inspiring and thought-provoking keynotes and sessions.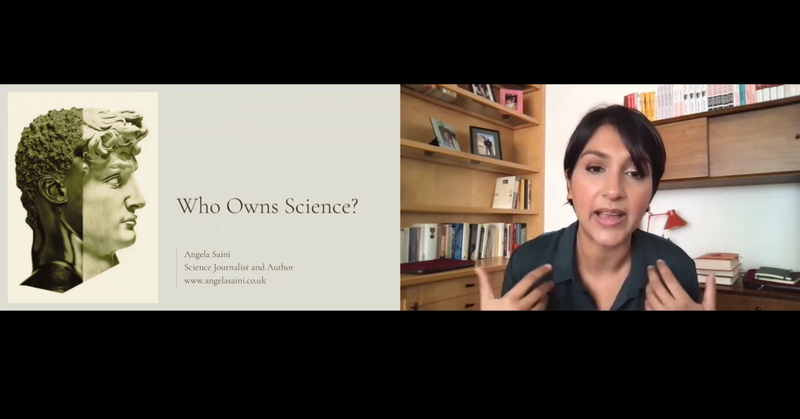 Screenshot of keynote speaker Angela Saini, award-winning British science journalist and broadcaster
Online, but accessible
In the past the ASDC Conference has given everyone the opportunity to chat, network and meet colleagues for dinner and drinks, but with the uncertainty around COVID and travel restrictions we made the decision to go virtual. The online conference had two distinct advantages; accessible for all meaning more delegates were able to attend due to the lower price and being able to access it from anywhere, plus the opportunity to run sessions on more in-depth topics relevant to lots of science engagement professionals rather than just the senior teams.
The conference in numbers:
👋🏾 over 300 STEM & science engagement professionals
🗣 55 speakers
📰 23 sessions
🌍 delegates from 5 countries
📢 4 keynotes
💪🏽🤗🌱 3 sub-themes; resilience, diversity & environment
📅 2 days
💥 1 grand finale quiz
Feedback from delegates
"Fantastic keynotes and great mix of sessions in terms of content as well people involved i.e. external community partners, less senior staff etc. Loved the way it was structured- really easy to follow the themes."
"It was great to be able to have lots of our staff team attend - the cost of travel and accommodation would usually make that out of the question. For myself, I was able to dip in and out alongside other meetings etc I had on the days in question, as well as catch up by watching the recorded sessions. (I didn't have time to use the networking space but our team were very positive about it.) Nothing can replace the experience of being there in person- I did miss the immersion that you get from being in the room and totally focussing on the session you're in - but I was really happy that members of our team across all levels of the organisation (including some staff who are really new to the organisation and science centres) got to attend and take advantage of this brilliant opportunity to find out what's going on in the sector - it helps for personal cpd and networking but also helps everyone see that what we're doing as an organisation is part of a bigger sector - or even movement!- where there are likeminded people with similar motivations. The feedback from the team was really positive - everyone enjoyed it."
"I always love the talks from people outside the sector. So interesting to get a new viewpoint."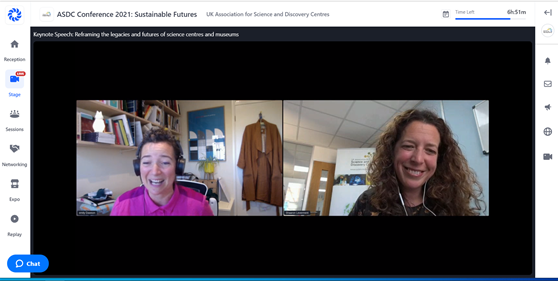 Screenshot of keynote speaker Dr Emily Dawson, Associate Professor and Lecturer in Science Communication, Department of Science and Technology Studies (STS), UCL talking to Shaaron Leverment, ASDC Acting CEO
Thanks to everyone who attended, shared questions, provocations and ideas to take us into 2022 with energy and drive to continue on our quests for a more sustainable future.
And thanks to our fantastic speakers, chairs and awesome tech team for making it happen!
Next year the conference will be in Glasgow from 28-29th September 2022. We also hope to run a virtual element to enable more people to attend, making our events accessible to all.