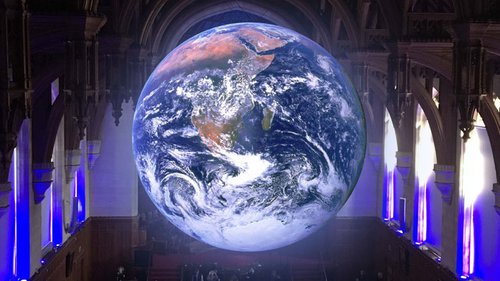 Created in partnership with ASDC, the Natural Environment Research Council (NERC) and Bluedot, the artwork 'Earth' was unveiled at Bluedot music and science festival at Jodrell Bank in Cheshire this weekend.
Measuring seven metres in diameter, Earth features 120 dpi detailed NASA imagery of the Earth's surface. With this artwork Luke hopes to create a sense of what the Overview Effect, which was first described by author Frank White in 1987. The Overview Effect transforms astronauts' perspective of the planet and mankind's place upon it. Common features of the experience are a feeling of awe for the planet, a profound understanding of the interconnection of all life, and a renewed sense of responsibility for taking care of the environment.
The artwork is 1.8 million times smaller than the real Earth with each centimetre of the internally lit sculpture describing 18 km of the Earth's surface. By standing 211 m away from the artwork, the public will be able to see the Earth as it appears from the Moon.
Related content