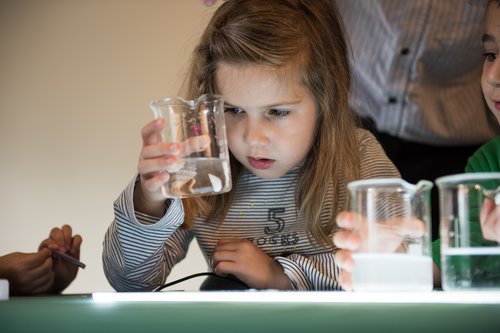 As Operation Earth launches in Science Centres across the UK for half term, visitors will get the chance to watch a family show, become a scientist and take part in fantastic experiments about the Environmental Sciences. 
The Operation Earth programme is funded by NERC, developed in collaboration with inspiring NERC researchers and three expert partners, the Natural History Museum, Dynamic Earth and the Eden Project. 
This exciting new programme will engage and inspire over 100,000 children and adults with the wonderful stories of Environmental Science and how it affects our daily lives. The family show brings to life Earthy's story, a brilliant costume character with their very own ice cap. Visitors will be able to take part in the show and investigate Environmental Science with fun hands-on experiments. From testing air quality to discovering wildlife in an indoor meadow, visitors will be able to explore the world in which we live and become a citizen scientist at home. 
The Minister of State for Universities, Science, Research and Innovation, Sam Gyimah said:
"The UK is a world leader in tackling climate change and through our Industrial and Clean Growth strategies we are committed to the development of low carbon technologies, like electric vehicles and smart energy systems, to improve our quality of life and help protect our planet.
"Operation Earth is a great opportunity for families to see the fantastic impact environmental science has on our lives and to inspire our next generation of world-leading scientists and researchers. I urge families from across the UK to visit their nearest participating science centre, get involved in some of the great activities and see for themselves this vitally important campaign in action." 
Chief Executive and Executive Chair Designate of NERC, Professor Duncan Wingham, said:
"NERC science and researchers have been integral to developing Operation Earth and scientists local to each centre are involved. Visitors will be able to speak to people working on environmental science in their local area and understand the positive impact this research has on all of us"
Read NERC's press release here: http://www.nerc.ac.uk/press/releases/2018/04-earth/