Visit website:

www.exploreyouruniverse.org
The following short case studies, written by the programme directors and facilitators, provide a snapshot insight of the many programmes taking place across the country, reaching new audiences, in new ways that involve and empower all taking part.
Literally Science: The National Science and Media Museum
The National Science and Media Museum is working hard to make sure the diversity of their visitors reflects the diversity of their local population.
We had been working with nine primary schools in an area close to the Museum considered to be an area of multiple deprivation.  We had been working with their home school liaison staff (in Bradford these are called Parental Involvement Workers) to encourage teachers to book the Museum learning offer. Parental Involvement Workers are an incredible resource as they not only had influence within school but also within their local community. 
At a feedback session they explained that while they loved working with us, Science just wasn't a core priority for them – it was Literacy! We talked to the schools about how an event in the Museum could really stimulate families interest in literacy and from this, the concept of Bedtime Stories was born: an event for local families planned in partnership with us and the Parental Involvement Workers, the local library and other partners. 
It takes place in the Museum after school.  The overall aim is to encourage parents to read and write at home with their children, as we understood that for them, accessibility to science required good levels of literacy. The first Bedtime Stories included teachers coming to the Museum dressed in their PJs reading stories to the parents and children.  We had a local poet delivering interactive poetry reading sessions, a rap artist helping families write their own rap, a cosy reading area, an activity creating story illustrations using sound and a visit from Bookstart Bear. Wherever possible, science-themed stories and activities were used. We also offered free hot chocolate.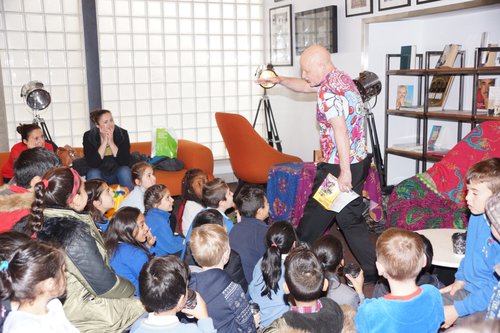 We hoped that around 200 parents and children would take part, so imagine our surprise when 1500 parents and children piled through our doors at 3.30pm!!  It was absolute chaos!  It was fantastic!  Families said they felt welcomed and that being with other people they knew from the school playground made the Museum feel like it was a place for them. The social aspect of the evening was very important to the families who came.
We have since delivered Bedtime Stories twice and have settled at around 1200 people at each one.  We have increased the partners we are working with and the range of activities we offer at each event and bringing more and more science learning into each event.  Families are reporting that they feel more confident visiting the Museum, that they are talking together about their visit and the things they have learned – science and literacy. This cluster of schools now fully engage with the Museum on a regular basis and we are seeing the families return to the Museum for other family activities. The schools and families now see the Museum and the event as theirs, which is exactly as it should be.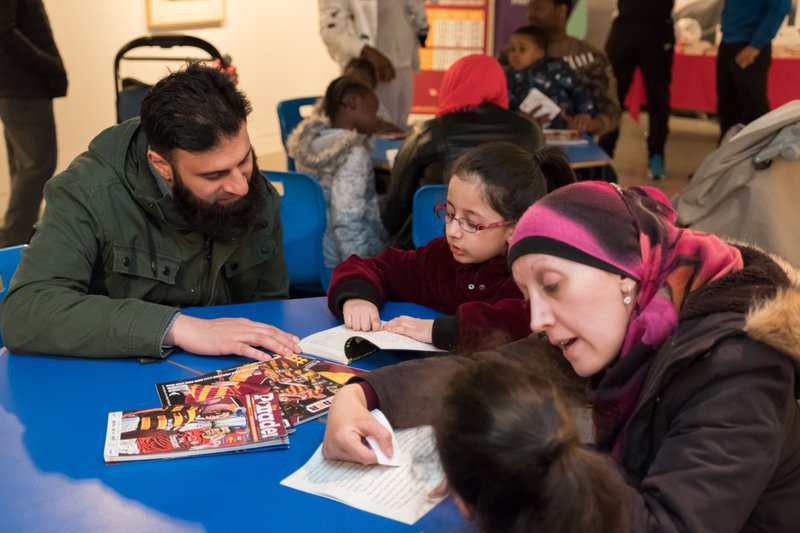 Parenting Science Gang
This project embarked on a science engagement project without first identifying the science content that participants wanted to explore, with excellent results
Parenting Science Gang, a Wellcome-funded, user-led, online citizen science project set out, over two years, to enable groups of parents to run their own research in areas of science that interested them. The topics for research were decided solely by the parents during the project and the whole process took place on Facebook.
The parents wrote a long list of parenting questions that they wished that research was providing answers to and then voted on which ones to investigate themselves. With the support of academics, the parents wrote and carried out 7 different research studies on subjects ranging from investigating the content of breast milk for over 2s using a new mass spectroscopy method, to an experiment to look at the impact of gender stereotypes in picture books. Publications in academic journals are now in process.
Our parents are extremely proud of themselves and think that they talk more and more confidently about science with their children. One parent reported that their daughter now "wants to design experiments herself!". Our initial evaluation data shows that they visit more science centres and museums and 7 parents are now embarking on new careers that have a science focus. Not bad for a project where we didn't even know what science we'd be doing!
www.ParentingScienceGang.org.uk 
Glasgow Science Centre: Deaf Science Club
Recognising the disparity between deaf and hearing educational attainment, (and in order to engage with the Deaf Community) we met with 3 Deaf organisations and most importantly the parents of Deaf children to find out if they felt there was a need for a Deaf Science Club. It can be uncomfortable connecting with groups out of your 'usual' audience, but be assured most people are very happy to be engaged in discussion.
Making initial relevant contacts and building relationships was the key to achieving 'buy in' from both organisations and parents; using flyers and posters was a key aspect of advertising the club – never underestimate the power of a poster!
The pilot ran for 6 sessions in 2017 and offered deaf children and their families an inclusive and participatory STEM experience through our Education (Curriculum for Excellence) programme – this was not adapted in any way as, Dr Audrey Cameron (Deaf BSL user) led the sessions both translating and providing a strong positive role model.  This also impacted on the parents as they acknowledged they presumed Dr Cameron would be hearing – encouraging discussion on their misconceptions of the deaf community and their perceived limitations.
Initially we had 2 age ranges, but quickly realised this was not conducive to peer learning as the children were super keen to meet and socialise with each other regardless of age. Also, the content was pitched at a more general level to be mindful and inclusive of all the communication requirements in the group.
Session leader – Dr Cameron (BSL) – volunteered her time

Session Support – Science Communicator (no BSL)

BSL Interpreter – to assist with communication (The BSL interpreter also wore a microphone for the children with digital hearing aids).

Electronic note taker – 2 children had no BSL skills
Dad of child aged 9 - Deaf Science Club:

"After the first session, Louis was much more positive and 'jumped' right in. He's usually quite shy but he was engaged, following it all. The sessions gave him the opportunity to share some interest with other people signing, to be in an environment where even support staff were signing. He learned a lot of new vocabulary and it gave him a chance to ask questions. In the Planetarium, he was at first quite shy to ask questions but he came back in and asked about Pluto. Your staff were able to zoom in on to Pluto in a mini session just for him".
Legacy of pilot
Parents/care givers support group when children at club

Year 2 complete with new activities and different timing

Word of mouth through school/parents attracted larger numbers

Demand has risen for another club

Deaf units in Mainstream schools have expressed an interest

Increase in science centre staff requesting Deaf awareness and BSL classes

Creates a more inclusive environment

On reflection… when the parents were comfortable understanding the sessions and how they would be delivered, they relaxed and 'trusted' us to inspire and raise their children's confidence. At the second set of sessions in 2018 we provided a separate room to allow the parents/care givers to chat, meet other Deaf professionals and encourage them to explore other communication options.
Year 3… coming soon!
SS Great Britain: Family Volunteer Programme
During Family Takeover Days at Brunel's SS Great Britain, families volunteer together and become part of the crew. Working together as a team, families complete a series of challenges, which engage visitors and bring the history of the ship to life. Activities may include teaching visitors how to play a traditional game of quoits on the ship's deck, demonstrating how to work our lifting frame or running a coal-shovelling activity in the Dockyard.
Feedback from families has been really positive. One parent said: "We enjoyed working together as a team.  I personally enjoyed seeing my children interact in a new context and gain confidence with this". One of the positive outcomes has been seeing how confident children are in speaking to visitors and how effectively children can engage other children. If another organisation was looking to set up something similar, we would recommend starting with thinking about what families will get from the experience and trying different marketing approaches. We have found that promoting the opportunity through our communities programme has helped us to spread the word to families who might not otherwise hear about it. 
Walton Youth Project


Learning from a project of repeat interventions and co-created content with the Tate Liverpool
Walton Youth Project aims to raise the aspirations of children, young people and families, developing confidence in themselves and their community. They provide various different services for young people, providing opportunities for them to enhance their personal development alongside allowing them to develop and reach their full potential.
Walton Youth took part in a 12-week programme 'Making Their Mark' through creative and collaborative interventions with artist Sarah Marsh.
By listening to the ideas of the young people and responding to their suggestions, the project developed into playful and open-ended explorations of materials and processes that have encouraged unique and engaging interpretations that explore the theme of transformations, identity and free play. Our creative wanderings have been captured and documented through photography and film.
Keys to succeeding included being aware of the needs of the young people involved, the workers and training for the museum staff. Building relationships and trust, bringing positive reinforcements and celebration throughout the programme was important, as well as working at the level of each person, understanding the backgrounds, cultures, language barriers and the reasons behind different behaviour.
Quotes from Walton Youth Takeover Project:
'We've done loads of work over the past few months, we've been all over Liverpool trying to be inspired of what to make for this project and this room shows exactly what we came up with'.
Kallie, WYP young artist
'As well as transforming their surrounding environments through creative processes, the young people from the Walton Youth Project have transformed themselves into creative thinkers and makers'.
Sarah Marsh, lead artist
We The Curious: Curious Researchers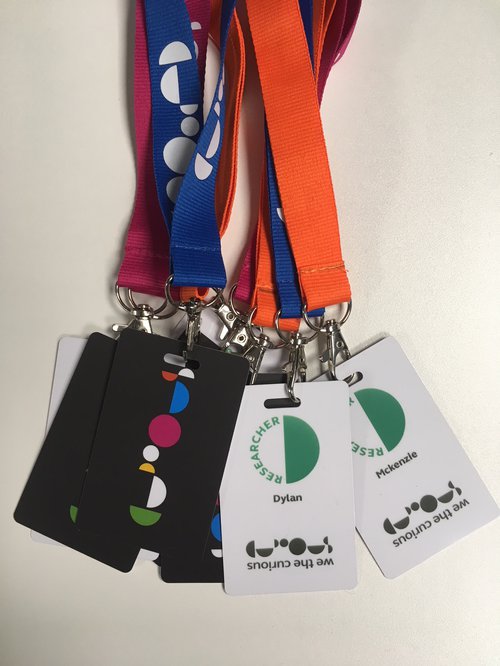 The Curious Researchers are a group of 8 young people participating in a two-year pilot programme. This is running in parallel with, and therefore sharing the learning from, the YESTEM programme exploring equity issues in informal science learning. The learning from the first phase has not only helped us to shape the second phase, but is contributing to our understanding of how to create the conditions for equitable practice and support young people's sense of curiosity and agency.
In January 2018 we recruited 8 year 7 students (11 years old) with Bridge Learning Campus in Hartcliffe, South Bristol who will be part of the research team for the next two academic years. Being a Curious Researcher provides the young people with the opportunity to contribute to our ongoing development, in particular through our public question campaign, and allows us to explore how we might develop and embed an appropriate young people's leadership group model. 
The project gives them the space and support to bring their own thinking and culture into our organisation and programming, and gives them opportunity to develop their confidence, curiosity and creative thinking.


The project objectives are to:
Establish a group of young researchers who can contribute to the development of a long-term youth strand at We The Curious.

Create an experience that is playful, experimental and fun.

Enable young people to have a voice in shaping our organisational change, and help ensure that our content and activity is relevant and engaging.

The use of creative research skills to explore and investigate questions from our public question gathering campaign.

The production and showcasing of material to be used as content for our wider audiences such as on the Big Screen.

Provide an opportunity for families and teachers to engage collaboratively.

Activity January – July 2018
There was direct contact with the group every two weeks. These alternated between 1-hour lunch time sessions in school and 1.5 hour sessions held at We The Curious. The group were provided with session outlines so that they could self-run a lunchtime session or gather research material independently in between the facilitated activity.
Activity included:
Introduction to We The Curious and the questions in the city campaign.

Shortlisting questions for the first two new exhibit clusters for Inspiring Science.

The group lead on hosting our Curious Cube in their school for British Science Week, and they received training to take responsibility for facilitating questions from their peers.

Co-delivery for the Hello! Hartcliffe community weekend.

Exhibit, content and interpretation prototyping.

Activity October 2018 – July 2019
The second phase of activity is building on the first year. The group will be co-designing activities for a family science festival during British Science Week at the school in March. This will extend to continued co-designed and delivered activity at We The Curious for the families as part of Hello! Hartcliffe free community weekend.
Ignite!: Why work with families from the local refugee forum?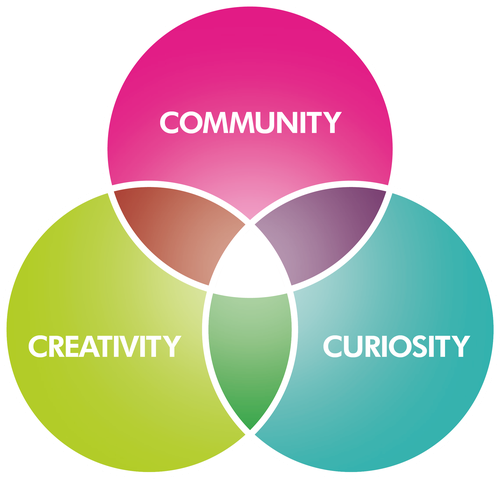 As part of the Curiosity programme, supported by Children in Need and the Wellcome Trust, Ignite!, the Nottingham-based charity, created a series of activities for children, young people and their families all facing the challenges of disadvantage, with the aim of promoting the kinds of outcomes that Youth and Community Services strive to achieve.  Notably, we were exploring how informal science learning, science engagement, could boost communications skills, a deeper interest and curiosity in the world around them (based as far as possible on the STEM questions that matter to them), co-operation and community cohesion, and a sense of esteem and identity.
The programme illustrates the Venn diagram that now informs our work.
The families from the Nottingham Refugee Forum are part of a network of community development agencies that Ignite! has worked with over a number of years, and our approach to them was simple and straightforward; once we had secured a location, the St Ann's Allotments, we asked, 'What would you like to do?'; to which the answer was equally direct, 'To explore!'
So that is what we did.
The project over five days involved mapping the rather neglected allotment that we had dedicated access to, recording the bio-diversity, using microscopes, pooters, quadrats, collecting jars, magnifying lenses, and a night camera, and making bug hotels, a collage/montage of the location in the community room, and of course the video.  What is remarkable for me about the video is that the children fronted it, improvised their descriptions and explanations, and exuded warmth, confidence and pride in the communication of what they had explored and discovered.
And whilst the environmental science we explored will not appear in Nature, the project illustrated the progression from curiosity to speculative understanding to experiential appreciation and knowledge. 
For details go to the Curiosity page of the Ignite! website
https://www.ignitefutures.org.uk/curiosity
Or visit the blog: https://www.ignitefutures.org.uk/single-post/2018/07/16/Nurturing-Nottinghams-Curiosity
WEST Science Club at LIFE
WEST is the West End Schools Trust, a consortium of primary schools in the west of Newcastle who are nominally the feeder schools for the state secondary Excelsior Academy. They have been engaged in a STEM enrichment programme with the International Centre for Life for nearly six years.
The wards that the WEST schools serve are amongst the top 5% most deprived areas in the country. The ethnic diversity in North-east England as a whole is much less than 1% but in West Newcastle it is over 30%. The majority of the pupils are entitled to free school meals and over 50% have English as a second language. These schools could be dour, down-trodden and feeling rather sorry for themselves but, on the contrary, they are bright, vibrant and bursting with excited young people keen to use their learning to forge a career in the future.
We are proud of the difference the project has made to the schools, the children and to Life.  For the past five years, each of the six schools has sent a minibus of children to participate in an afterschool club at the science centre. The year group targeted changes each half term, so years 1-6 all benefit every year. The choice of pupils who participate is left to each school; some like to bring new children each year, others have children whom they want to encourage and promote as scientists and we see these annually. The Science Club is a popular option and children who attend are quizzed about what they have done by their friends and, more surprisingly, by students in other year groups. Science is regarded as exciting and cool throughout all of the WEST schools.  Life staff are well known in the schools and it is lovely to be greeted by so many waving hands and smiling faces each time we visit. The staff provide much needed as the students move to the secondary school.
It is an amazing process. Last week I had kids from Year Four bursting their heads as they came to grips with the particulate theory of matter and the explanation of macroscopic behaviour of solids, liquids & gases from understanding what the particles are doing. It was not me telling them but they worked out what must be happening and told me. All I did was scaffold their thinking and I would be pleased if good year nines managed the same level of comprehension. You don't get that kind of effort without the kids being pretty fearless about getting things wrong and trusting the environment in which they are working. What is more, this week, off the cuff, I asked them to be particles and make a liquid, then a gas, and then a solid. They all did this superbly well, evidence of deep learning and retained knowledge.
It is too early to prove that the early intervention makes a difference but anyone with secondary classroom experience can see that the WESTies have maintained their primary enthusiasm for science into their secondary schooling and are a joy to teach.
We know that too few students stay on to gain science qualifications and follow scientific or technical careers. The Ogden Trust are supporting a project to follow WESTies through secondary school with further intervention from Life. If we show that consistent intervention in primary school with support through secondary school gives rise to significantly more students studying STEM subjects post sixteen, then we may have a recipe to turn the tide.