Animated Adventures


This exhibition has been developed by W5 in Belfast, Northern Ireland as part of an eTEC consortium project.
The idea of this 200 sq metre exhibition is to explain, in the animators own words, how they come up with ideas and then how they turn those ideas into animations. 
The following animators have written the text and provide images of their work to illustrate creativity in the medium of animation: Aardman Animations, Banjax, Michael Sormann, Richard Vaucher, D7 Studios, Timothy Albee and Evan Cagle. Each one has a very different style and approach which makes this exhibition fascinating for professionals, budding animators, family and education audiences. 

Animated Adventures is an exhibition produced by The Association for Science and Discovery Centres Travelling Exhibitions Consortium (eTEC) and funded by the Millennium Commission through a ReDiscover grant. 
Wallace and Gromit are © and TM Aardman Animations Ltd. 2005 All Rights reserved. 

Exhibition Contents
The exhibition features Aardman Animations and the exhibitions central unit tells the story of the making of the Wallace and Gromit feature film - Wallace and Gromit, The Curse of the Were-rabbit. The story is told through a mix of text and graphics, models and sets from the feature and six short behind the scenes documentaries. 

What's the big idea
Creating new worlds

Setting the scene

Bring drawings to life (making plasticine bunnies)

Sounds like fun

Bringing it all together

Pods - other animators explain their approach

Around the sides of the central units are six pods where the other animators explain their approach providing a rich variation to the exhibition. 

Real sets
The main part of the exhibition is richly augmented by actual sets from the movie, depicting popular scenes and an opportunity to see the amazing detail that is put into each model and set. There are five main sets: 

Wallace and Gromit basement set with models

Tottingham Hall entrance hallway set with models

Mulche's garden set with models

Vicarage set with models - this is also an interactive called 'adding atmosphere' and therefore contains small lights for visitors to change the lighting within the case, plus the necessary control buttons.

Carousel Set - there are two additional sets with 3D viewers for visitors to look through, giving perspective and depth to some behind the scenes images

Interactives
Having seen how the professionals do it, the visitor is then provided with opportunities to try it for themselves through a range of interactives.

1. Colouring Characters (A): The visitor can chose from four characters provided by D7 Studios. Using a touch screen on a 17 inch screen they can then use the paint tool box to colour each element of the character. This sophisticated interactive allows the visitors to mix colours by using RGB colour sliders to see the colour effects as used by professionals.
2. Colouring Characters (B): This is a simpler version of the interactive above with wonderful outlines by Richard Vaucher to colour fill by touch the colour and paint box tools.
3. Adding Sound Effects: The visitor is shown a video clip from the movie 'The Curse of the Wererabbit'. It is a fabulous clip of Gromit in the kitchen and discovering some bunnies hiding in the bread bin. The challenge is to supply sound effects for the clip in real time, pushing buttons in sync with the action. If the visitor wishes, they can finish the activity by playing back the movie clip, first with the new sound track, then with the original.
4. Getting Animated: Many of us remember the character Morph who accompanied Tony Hart on the wonderful children's art programme. In this interactive Morph is lays down a black mat that turns into a hole, which he dives into and disappears. The visitor drags a series of images onto a time line attempting to put them in the correct order to make a smooth animated sequence. If they get it right they are rewarded with the animated clip and a round of applause . This is much harder than it looks!!
5. Adding Titles: This interactive allows you to add titles in an animated way, using letters, to title a film or credit the makers. It also gives the experience of using a rostrum camera and the different affect it creates from the horizontal camera interactive in Making a Mini Movie.
6. Making a Mini Movie: A camera is housed in a protective casing at one end of bench, a panel with 6 printed interchangeable backdrops on scratch proof laminate at the other end. The user has a number of small model characters, in a box to one side, which they can move around to make a short animation. A series of five push button controls on the camera casing lets them take a still image and then play back their finished clip.
7. Creating Characters: In the final section the visitor can stop try a very different skill. The visitor takes a sheet of paper and a pencil and takes a seat at a drawing board in the animation studio. On the projected screen, a professional animator from Aardman Animations shows the visitor how Wallace and Gromit are drawn through drawing simple shapes and gradually building up detail. The visitor follows the professional's instructions creating their own drawing to take away with them.
Photos
Entrance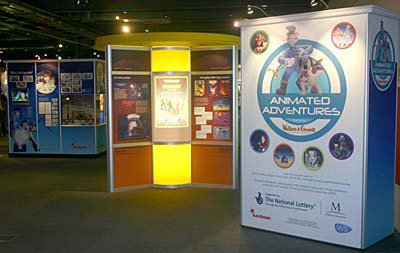 Central Unit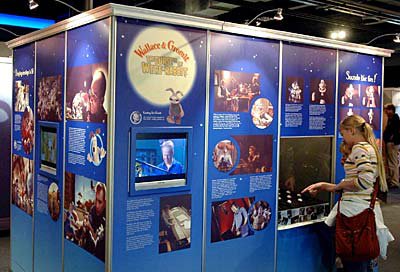 Bringing Drawings to Life display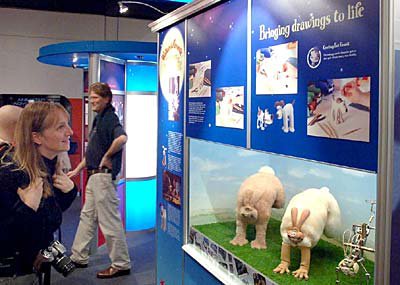 Sets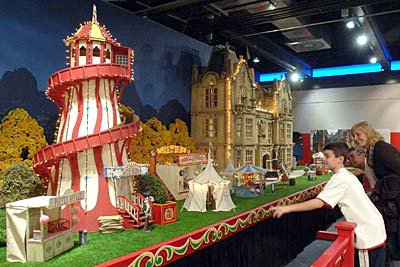 Interior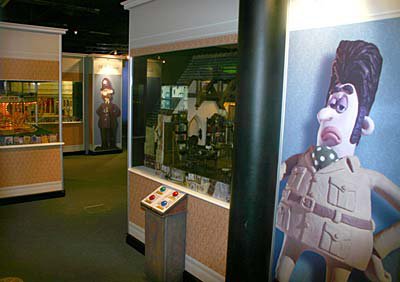 Interior 2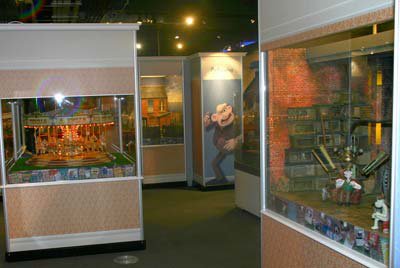 Mulch's garden set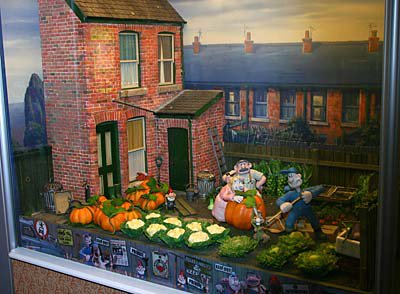 Tottingham Hall set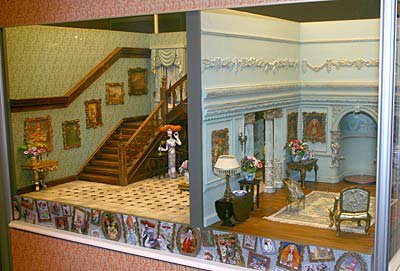 Basement set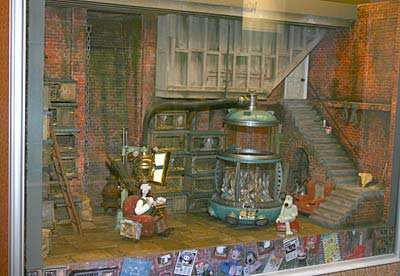 Basement set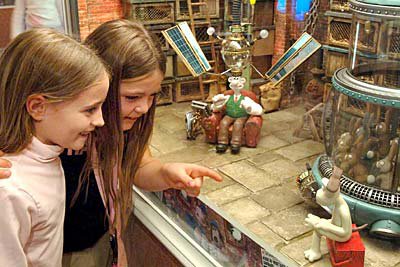 All images © Aardman Animations Ltd. 2005. Wallace and Grommit are © and TM Aardman Animations Ltd. 2005 All Rights reserved.

Education and Family Events
These are examples of activities which centres can provide as part of the exhibition.

Character design workshop
This workshop provides you with all the tools needed to create satisfying and original characters. A short film, presented by professional animators, guides you through the skills necessary to create your own clay character exploring the use of colour, texture and personality.
Seeing and Believing show
Discover why seeing is not always believing and learn how the brain makes sense of what we see. Experience perplexing optical illusions and find out how 'persistence of vision' creates the optical illusion that everyone loves - animation and cinema.
Press Moulding (roll-out exhibit to be staffed) [To be confirmed]
Stand alone bench with four rabbit press moulds and themed graphics (moulds supplied by Aardman Animations). The visitor receives a piece of plasticene which they can press into the mould giving them a model of Hutch the rabbit to take away. Visitors are interactively shown the process of Press 
Optional Extras
Story Boards KS1/2
Use this simple outline to encourage children to develop their own storyboard ideas either through illustration, writing, or a combination of both - eg:
Character > Journey > Why go? > Problem > How overcome? > In the end
Monster flip book KS1 (print costs)
A simple sheet of three characters - on the lines of head, tummy and tails, can be made up into a monster flip book to show how characters can change.
Technical information
Download the technical information and content components sheet.
For more information please email: info@sciencecentres.org.uk

Link:

The Aardman Website