Horizon Europe: Involve the public in future science programmes
Many of you will have been involved in Horizon 20:20 programmes and indeed the UK Association for Science and Discovery Centres continues to lead the UK part of two Horizon 2020 programmes,  one on improving gender equity in STEM and the other to increase citizen participation in the way science is funded across Europe. 
Horizon 2020 is the eighth framework programme (FP8) that began in 2014 and runs until 2020.
On June 7th 2018, The European Commission released its draft proposal for Horizon Europe (FP9). This is important as there is a small window of just weeks in which the public and interested parties can suggest changes to what the Commission will fund for the next six years.
In this latest Horizon Europe draft: 
There is no funding stream for 'Science with and for Society' 
There appears to be no major drive to engage the public, families or schools with science in any way we would recognise as engagement. Instead it is a more top down and one-way approach, using words such as 'dissemination of results' and 'communicating what the EU funds have been spent on'. The closest mention is citizen science and putting scientific data on open platforms.
We are joining with our European and Ecsite colleagues to advocate with MEPs and the European Parliament for the key need to engage the public with the latest science.
The time frame:
Proposed changes need to be sent to the commission in early July preferably.
Amendments are being incorporated in July and across the summer by the European Commission so they have a more final version at the start of September.
In June, our colleagues at Ecsite are carefully going through the many documents and proposing specific revisions and amendments to ensure engagement is a key component of the science programmes.
In early July, Ecsite will kindly share this with ASDC and you are welcome to use this information to write to the commission and speak to your MEPs.
The next European Union Framework Programme for Research and Innovation, successor to Horizon 2020, is expected to launch on the 1st January 2021 covering the period 2021-2027. 
The next European Union Framework Programme for Research and Innovation, successor to Horizon 2020, is expected to launch on the 1st January 2021 covering the period 2021-2027. 
For the UK, clearly we still also have the additional difficulties of Brexit to negotiate first. Below we have included the position of the UK Government on UK applications to Horizon 2020 funds, and Horizon Europe.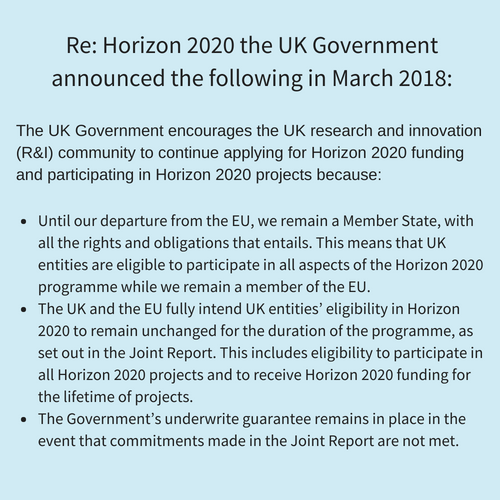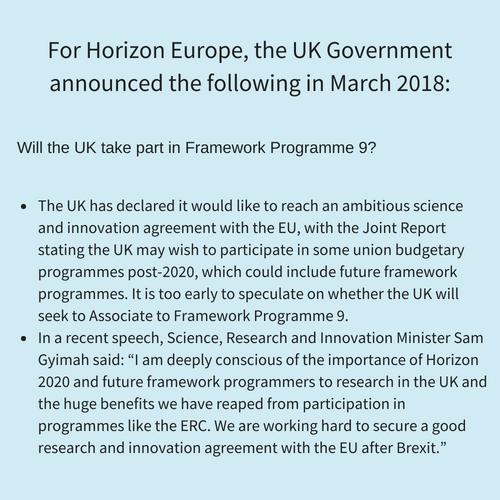 Below is information from Ecsite and further updates can be found on their website:
https://www.ecsite.eu/activities-and-services/news-and-publications/horizon-europe-first-draft-out-mobilisation-needed

Ecsite is now calling for a mobilisation of all science engagement professionals and organisations to influence the negotiations next stages. 
On the basis of this proposal, an agreement between the Council and the European Parliament will have to be found. The European Parliament has appointed two rapporteurs: German MEP Christian Elher and Romanian MEP Dan Nica, who will steer the negotiations. The current time frame is quite tight as the European Commission and Parliament are still aiming at having Horizon Europe voted before the next European elections in May 2019, which is a short time for such process.
The text from the European Commission is currently structured around 3 pillars:
Open science, focusing on fundamental research through funding to the ERC (European Research Centre) and on researchers' mobility and training with the Marie Sklodowska-Curie Actions. Grants are also foreseen for Research Infrastructures.   
Global Challenges and Industrial Competitiveness, grouping research into five thematic clusters: health; inclusive and secure society; digital and industry; climate, energy and mobility and food and natural resources. This pillar includes a small number of missions with specific goals designed to be more impact-oriented.
Open Innovation, aiming at the enhancement of Europe's innovation output. A fourth minor part entitled "Strengthening the European Research Area" is divided into two main components: "sharing excellence" and "reforming and enhancing the European R&I system".
We have noticed that no specific strand of funding is dedicated to science engagement as it used to be in Horizon 2020, and that a specific emphasis is put on communicating research results to citizens.
What next?
As part of our advocacy campaign for science engagement in Horizon Europe, Ecsite has already started making the voice of science engagement heard by publishing a Position Paper, co-organising an event at the European Parliament with Polish MEP Michal Boni and organising a meeting with science engagement national networks in Geneva on the side of the Ecsite Conference.
In the next few weeks, Ecsite will be drafting amendments to this Horizon Europe proposal in order to bring science engagement ideas forward, as described in our Position Paper.
We will be sharing these amendments and calling all science engagement organisations to take hold of them and bring them their own amendments to their Members of the European Parliament but also to relevant stakeholders from their national government. Advocacy at national level in all EU member states will be crucial to advance our ideas as the Council, involved in the negotiations, is composed of government ministers from each EU country.
As numerous voices are always more powerful than one, we are urging all science engagement organisations, professionals and national networks to join this advocacy campaign as the main negotiation phase will be lasting until September.   
We will be publishing regular updates about the process.
More information:
The Network of National Contact Points for Science with and for Society in Horizon 2020 have written the following:
Horizon Europe needs a specific programme for funding Science, Society and Citizens' initiatives 27.6.2018 
There is an urgent need to strengthen funding for the interaction between science and society, but the EU's proposal for Horizon Europe, does not foresee a programme dedicated to Science with and for Society. Therefore, we are calling on the international science community to join forces and sign a petition to ensure funding for a specific programme dedicated to science, society and citizens' initiatives. 
Link:

Draft proposal for Horizon Europe
Link:

Find out more on the Ecsite websites