Small Grants to Support Science Centres and Museums to Celebrate World Space Week
World Space Week is a global celebration of space science and technology, running each year from 4th-10th October. The week was set by the United Nations General Assembly and is celebrated with events, activities and exhibitions in countries across the world (www.worldspaceweek.org). This year's theme is 'Exploring Mars, Discovering Earth'.
Building on the success of last year's World Space Week Grants we again made ten small grants available, supported by the Science and Technology Facilities Council (STFC), to help centres and museums celebrate World Space Week.
Science and Discovery Centres, Science Museums and other organisations within the ASDC membership from across the nation applied and a selection panel recently selected the ten proposals to be awarded a grant.
We are delighted to announce the ten centres who have been awarded a grant are: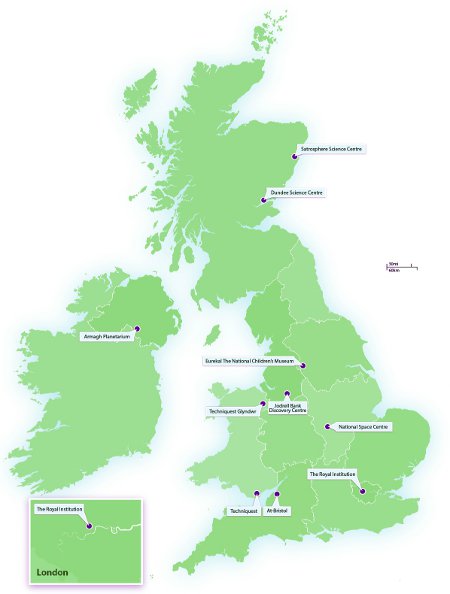 A comet will come close to Mars in 2014 and from Earth we will see Comet ISON in November, but what are Comets and are they a threat? Find out at Armagh Planetarium as we discover Comets for World Space Week.
At-Bristol's practical science space, Live Lab, is transformed into the surface of Mars! Visitors are challenged to retrieve and analyse rock samples, using their science skills to discover more about the Red Planet.
Supporting teachers, STEM ambassadors and communities to engage in contemporary space research
This project is focussed on the creation of a resource box and activities for teachers to use in the classroom, STEM ambassadors to use in schools and at public events, science communicators to use within the science centre exhibition and on outreach, and community educators to utilise with their own communities. The resource will be curriculum-linked and inter-disciplinary, and will provide information, activities, equipment and advice to support professionals to deliver exciting, hands-on activities that celebrate the fascinating topic of 'space' and the amazing research that is being undertaken in this field within the UK and Europe.
Eureka!, West Yorkshire 
Young explorers
Two experts in the field of space education are joining together at Eureka! for a day of exciting workshops showcasing space exploration and encounters. From links with the ESA to Robots on Mars, children will have an opportunity to engage their senses and imaginations with the why, how and wow of space technology.
A day of activities at Jodrell Bank Discovery Centre for Y5 and Y6 primary school pupils from disadvantaged schools. Participants will get to explore how send rovers to Mars and also observe the planet in our inflatable planetarium.
Late Space
Late Space is an evening science event aimed at enthusiasts, families and fans to highlight the UK's academic powerhouse in space science, as well as the buoyant and inspiring industry. Hosted by the National Space Centre and supported by the University of Leicester, the Leicester astronomical society and locally based industries the event would focus on the East Midlands, giving visitors the opportunities to talk to local experts, engage with hands on activities to celebrate World Space Week. The Education Award bursary scheme will be used to open up the event to disadvantaged schools and community groups.
Secrets of the solar system
Dr Carolin Crawford takes school children aged 7-11 on a journey through the solar system, showing why we live in an exciting age for space exploration in a day of demonstration events for schools at the Royal Institution. The project will enable 300 students from disadvantaged schools to attend free of charge, and fund the development of activities to extend the learning experience back to the classroom.
Satrosphere, Aberdeen, North East Scotland
Art of Explorations - Past, Present and Not Too Distant Future.
Through an art installation and complementary science engagement programmes, this project will demonstrate how the limitations of human exploration and the technology used to document it have changed through history; we will also use current research into Mars to encourage discussion of the future of human exploration. This project will see the Science Centre collaborate with local partners from the art and physics communities to facilitate exciting and inspiring learning experiences for our audiences.
Techniquest will open its doors, free of charge, to members of the local community on the weekend of 5 and 6 October 2013 to celebrate World Space Week. Visitors will be able to enter Techniquest free of charge to engage with over 120 hands-on exhibits, have the opportunity to view a planetarium show free of charge, and participate in busking activities on the exhibition floor focused on a space theme.
Postcards from an Exoplanet
Visit specialist schools in the counties of Wrexham, Flintshire, Denbighshire and Powys to deliver interactive astronomy events to children with additional learning needs. Host a weekend of astronomy talks and stargazing for the general public.