ASDC Members
Map of the ASDC Membership Network 2023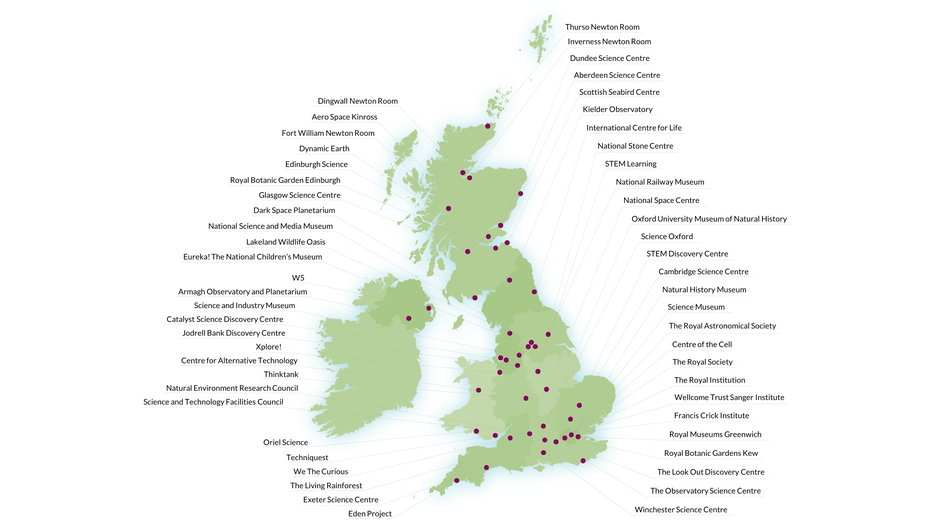 The Association for Science and Discovery Centres (ASDC) is the vibrant charity that brings together the UK's major science engagement organisations to play a strategic role in the nation's engagement with science. Within our network are over 50 of the nation's largest publicly accessible science and discovery centres, science museums and scientific bodies.
Every year our members work to encourage more diverse participation in science, engaging with over 25 million people of all ages, genders, backgrounds and abilities. Together, our vision is for a society where science is accessible, inclusive and valued by all ​as a fundamental part of everyday life.
Our membership includes:
UK Science and Discovery Centres
National, regional and local museums
Environmental centres and organisations
Learned societies and research councils
Organisations and departments with a national STEM remit.

Together our members make up the UK's largest publicly accessible network dedicated to both informal science learning and family science engagement. Collectively they employ thousands of dedicated science engagement professionals.
We welcome to our membership all organisations who share our values and our vision of a society where all people are intrigued, inspired and involved with the sciences.
Related content