Visit website:

www.exploreyouruniverse.org
Explore Your Universe Phase 3 follows on from the enormous success of Phase 1 and 2 of the national STEM programme in partnership with the Science and Technology Facilities Council (STFC). As of January 2018 a total of 380,987 children and adults have taken part in bespoke Explore Your Universe schools workshops, family shows and activities since the programme began in 2012.
The Vision: To inspire a new sense of excitement amongst young people around the physical sciences by sharing the amazing stories and technologies of STFC. 
The Mission: To increase the value-for-money, sustainability and legacy of the Explore Your Universe Programme, further extending the reach into disadvantaged and underserved schools and communities to engage those who are remote from STEM. 
Using the exceptional set of equipment, hands-on activities and family show that were created by the Explore Your Universe team during phase 1, Explore Your Universe Phase 3 delivery partners engaged 39,273 children and adults, largely from underserved communities, in 14 regions of the UK and across England, Wales, Scotland and Northern Ireland. This number of people engaging with the physical sciences considerably exceeded the combined original target of reaching 15,000 people nationally.
Together, the three phases of Explore Your Universe have engaged a total of 380,987 children and adults in 23 regions of the UK with cutting-edge physics and engineering. 
In addition to this number are all the wider activities, schools workshops and events using the equipment, activities and resources created by ASDC for Explore Your Universe that are running at science centres and universities across the UK. Added to this is the impact created by the scientists and engineers ASDC have trained since the programme began who have become invigorated in engaging the public with their research through taking part in Explore Your Universe.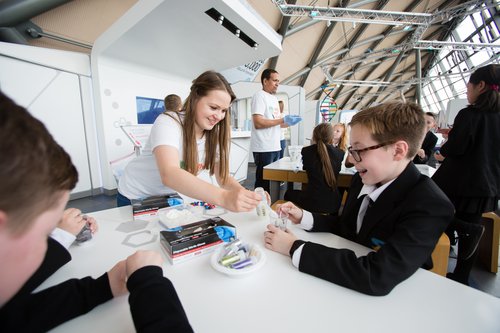 Fourteen science centre partners were selected to take part in Phase 3 and each was awarded a grant of £3,000. Each science centre undertook a variety of programmes to reach widely. This included community events, outreach to rural and underserved schools, activities and workshops at a Prison, bursary schemes for schools to cover coaches and other costs to visit a centre for high-end physics workshops, and careers events involving local and national employers.
An additional science centre partner was added to the programme during phase 3. Techniquest Glyndŵr gave the programme a strong reach into rural and underserved areas of North Wales.
The website was redeveloped www.exploreyouruniverse.org to include experiments to try at home and scientist profiles showcasing researchers from STFC facilities.

The Independent evaluation
The independent academic evaluation of Phase 3 of Explore Your Universe was undertaken by Professor Justin Dillon at The University of Exeter. The overarching purpose of the evaluation was to assess the programme's impact and success. The evaluation was also designed to provide information to partners to help them to reflect on their experiences and, thus, inform any future initiatives. 4,282 students and 213 teachers took part in the evaluation, with overwhelmingly positive feedback from both students and teachers:
98% of the 129 teachers surveyed report that they would recommend the activities to colleagues.
91% of students from schools in areas of higher deprivation were very positive about the activities (and 88% of students from schools in areas of less deprivation).
89% of the students whose schools had received bursaries rated the EYU activities as 'Very Good' or 'Good'. Primary school students (92%) were more positive than secondary school students (87%).
Boys and girls were equally positive about the activities with some slight differences for some aspects.
87% of primary school students felt inspired by the activities
Three-quarters of students said that they would tell friends and family about the activities with female students being more positive, especially those from primary schools.
Almost 80% said they found the activities inspiring 
Significant numbers of students reported that they were more likely to consider a career in STEM after taking part.
77% of teachers reported that they would talk with their students about the EYU content in the future. Two-thirds of the teachers reported that they were interested in attending CPD on this topic.
The Evaluation Process for each Science Centre
The Explore Your Universe team worked closely with STFC to achieve the following goals:
To create an evaluation programme that fits with the new STFC evaluation framework which uses the Generic Learning Outcomes (GLO's). 
To evaluate the efficacy and value of the bursary programme run by science centres in reaching underserved groups.
To evaluate the efficacy and value of the outreach programme run by science centres in reaching underserved groups.
To evaluate the efficacy and value of the CPD programme run by science centres in reaching underserved groups.
To evaluate the efficacy and value of the systems, processes and support that ASDC have created and delivered to make Explore Your Universe a success. 
Phases 1 and 2 of this programme marked a huge opportunity to collect a robust, national, multi-centre dataset demonstrating the impact science and discovery centres can have on families and students. Explore Your Universe Phase 3 gave the chance to analyse which elements of the bursary schemes and outreach programme teachers and students value most and which of the processes are key to making the programme so successful nationally.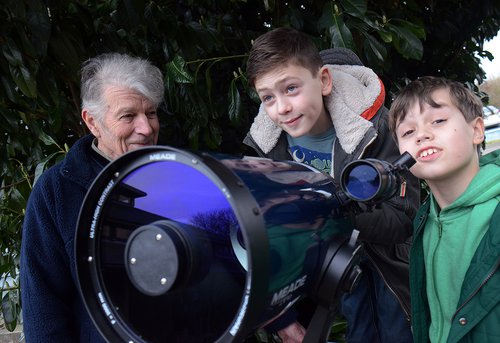 The evaluation included a series of standardised evaluation forms completed by visitors and input electronically by science centre staff. Outreach activities and workshops were delivered in a way that allowed participants time and space to answer the questions thoughtfully. 
You can download the full evaluation report here.
The legacy
Phase 3 has proven that Explore Your Universe continues to play a big part in engaging both school children and the public with physics and the inspiring nature of STFC science and research. The successful delivery of the programme highlights that Explore Your Universe is engaging and robust where ASDC and patners have strived to ensure it is still as applicable and up-to-date as when it was created. The continued delivery and support of the Phase 1 and 2 centres highlights the legacy that this programme has created.
Explore Your Universe has pioneered a step change in the way the science engagement community across the UK deals with the latest research in physics and engineering. It has enhanced the skillset nationally of science engagement professionals enabling them to bring the human stories and science alive with families and schools across the UK. Trained and confident in the latest research in the physical sciences, science engagement professionals have excellent kit, hands on resources and experiments via the Explore Your Universe programme to use with a range of audiences into the future.
From the phase 3 evaluation, it was apparent that a huge impact has been made on the teachers who have taken part in the programme, who once inspired will continue to bring great exciting science to students for many years to come.  
The programme continues to inspire males and females equally and appears to be having a significant impact on raising the level of interest in physics in girls, highlighting the importance of this type of hands-on practical science engagement programme.

ASDC and delivery partners would also like to hope that we have enhanced the lives of many of these school pupils and families who have shared this learning together, and hope that the young people will go on to have a life time interest in these fascinating topics, innovating along the way.

Project announcement 
April 2016
After the success of Phases 1 and 2 in reaching 347,008 school children and adults with high-end physics shows and workshops, we are delighted to announce Explore Your Universe: Phase 3. 
This phase of the project will run from 2016 – 2018 and will increase the reach, value-for-money, sustainability and legacy of the current successful national Explore Your Universe Programme. It will harness the skills of science engagement professionals already trained to deliver Explore Your Universe to huge family and schools audiences through 14 UK Science Centres. 
Phase 3 will consolidate all that has been done in Phases 1 and 2 and then extend the reach further into disadvantaged and underserved schools and communities. The funds will be focussed on engaging those who are remote from STEM (including geographically) and delivery will be via the existing partner science centres who have strong community links and expertise in delivering Explore Your Universe to celebrate STFC science with a range of audiences.


Phase 3 focuses on Science Centres that have taken part in Phases 1 and 2 of the Explore Your Universe programme. 
The selection process took place in January 2017, and the final 14 delivery partners were:
The Science Centre grant schemes
Each delivery partner received a grant for £3,000 to deliver specific programmes that increase STEM engagement and inspire people remote from STEM, including school children and communities high on the indices of multiple deprivation.
Science centres could apply for funding for the following 4 programmes:
1. Bursary Schemes to enable schoolchildren from disadvantaged areas (remote from STEM) to take part in Explore Your Universe curriculum-linked workshops
a) Bursary Schemes for school children in disadvantaged areas of the UK, administered by the science centre, where the funding enables a student from a disadvantaged area to take part in an Explore Your Universe curriculum-linked workshop and to visit the science centre. Each bursary for a student would be around £2.50 - £4 depending on the science centre, meaning that for £3000 could pay for up to 1200 school students to take part.
b) Travel Bursaries given to schools from deprived areas, particularly rural areas across Northern Ireland, Scotland and Wales, to enable those schools to pay for a coach to bring the school students to the science centres to take part in an Explore Your Universe curriculum-linked workshop. Each bursary for a coach carrying 52 students would be for around £100. £3,000 would enable around 1560 students to get to the science centre.
Science Centres will be asked to use the indices of deprivation (for each nation) and ask each school for their postcode to plot who has attended.
2. Teacher Training on Explore Your Universe activities

Science Centres can run Teacher CPD programmes, to inspire primary school teachers especially, to run excellent and cutting-edge school science practical activities and lessons. Science Centres with proven expertise in running teacher CPD are able to apply for funding to run a series of CPD training sessions for teachers in their areas, using methods they have evidence will attract teachers in their local area. This would include working with schools and local authorities that they already have relationships with to maximise the impact of the grant. The goal is that all the Explore Your Universe curriculum-linked activities can then be repeated with school children year after year, celebrating STFC and UK science in schools across the whole region. The teachers that are targeted through this programme would be from secondary and primary schools in the top 20% on the indices of multiple deprivation.
3. Outreach Programme for Explore Your Universe curriculum-linked workshops
Science centres can run Explore Your Universe curriculum-linked workshops and activities through outreach, taking the equipment, knowledge and great science activities directly into schools. We invite science centres to propose an outreach programme and tell us how it would maximise the value for money by playing to your strengths using pre-existing infrastructure. In general we would estimate that for £3,000, you could reach 1200 children who don't usually engage with this science and are from a very deprived or remote area of the UK.
4. Inspiring Careers in Physics and Engineering
Science centres can apply to use the funding to run science careers events aimed at children from disadvantaged backgrounds. This might be whilst they are still at primary school, or in secondary schools. Some careers days might be focused on inspiring girls with the physical sciences as evaluation shows that girls loved this programme of physics and engineering activities. We are not advocating for girls-only events, rather programmes and events that highlight the range of ways into STEM careers for people from all backgrounds, both female and male.

ASDC thank STFC for having the vision to fund Explore Your Universe which we believe has made a step change to the quality and reach of hands-on engagement with the latest physics and engineering in the UK.