Visit website:

https://my-moon.org/
ASDC is delighted to be a founding partner with the UK Space Agency of touring artwork Museum of the Moon. The moon, measuring seven metres in diameter at an approximate scale of 1:500,000 was created by UK artist Luke Jerram, has toured across the UK and around the world. 
Artist Luke Jerram created this beautiful artwork 'Moon' in partnership with The UK Association for Science and Discovery Centres, the UK Space Agency and the University of Bristol, with a host of co-commissioning partners.

Over 2.5 million people in 18 countries worldwide, have experienced the artwork #MuseumOfTheMoon .
It was first presented in Bristol and since then several Moons have been created to satisfy demand. It is currently in Beijing as part of their Exhibition on Lunar Exploration Technology above their National Aquatics Centre, and in Hull, Canada and the Orkneys. It has visited a host of science centres across the UK and will continue its tour visiting special hosts during the 2019 Anniversary of the Moon landing.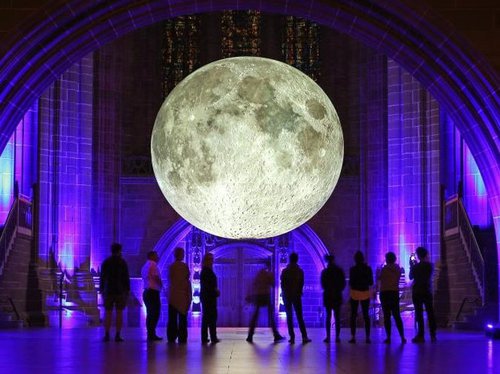 The artwork has already visited Tintern Abbey in Wales, The Liverpool Anglican Cathedral, Leicester Cathedral, and many other famous landmarks across the UK. It has toured at festivals across the world, including Festival Les Tombees de la Nuit, Terni International Performing Arts Festival and the Festival of Imagineers.
There are still some fabulous programmes to come and over the coming years Museum of the Moon will be presented in art exhibitions, science, music and light festivals around the world. As the artwork tours, new audio compositions will be created and performed by a range of established composers and musicians, so adding to the Museum of the Moon collection.
Background
Luke Jerram's multidisciplinary practice involves the creation of sculptures, installations and live arts projects. Living in the UK but working internationally for 20 years, Jerram has created a number of extraordinary art projects which have excited and inspired people around the globe. 
The Museum of the Moon was inspired by living in Bristol and noticing the huge tidal variation as he cycled over the Avon Cut each day. His moon research also led to his artwork Tide.
Find out more through Luke's main website here.

Museum of the Moon will next be presented in:
Beijing Olympic Water Cube – National Aquatics Center, China 7 July – 7 October
Muttart Conservatory, Edmonton, Canada, 30 June – 16 September
skyranMOON, Stromness, Orkney, 6 – 16 September
British Science Festival, Hull, UK, 11 – 13 September
Llawn06, Llandudno, Wales, 14 – 16 September
Bell Square, London, 22 September
Scène nationale de Cergy, France, 22 – 30 September
Gravity Fields Festival, Grantham, UK, 26 – 30 September 
Vivacity, Peterborough, UK, 4 – 15 October
Derriere le Hublot, France, 11 – 13 October
Lightpool Festival, Blackpool, UK, 18 – 28 October
Diwali, Leicester, UK, 25 October – 9 November
Essen Light Festival, Germany, 26 October – 4 November
Derry Halloween, UK, 26 October – 4 November
Let's Gro, Holland, 31 October – 3 November
Light Night, Doncaster, UK, 16 – 25 November
Lumo Light Festival, Finland, 23 – 25 November
Scienceworks, Melbourne, Australia, 1 December 2018 – 28th April 2019
Life Science Centre, Newcastle, UK, 2 February – 31 March 2019
(There are several moons touring simultaneously)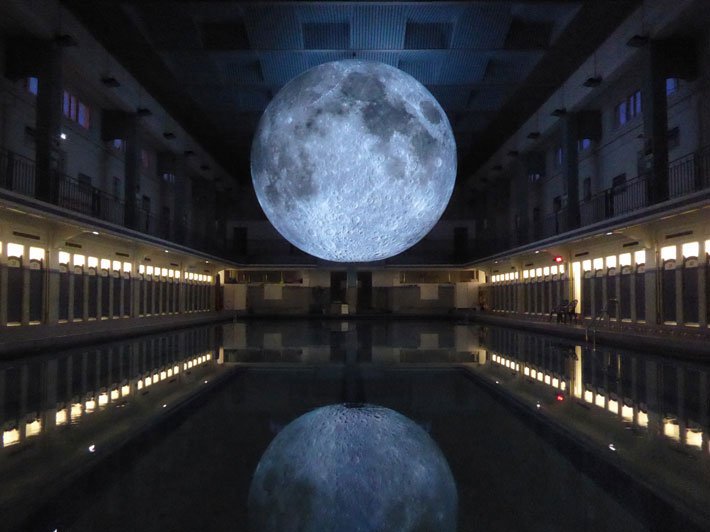 If your organisation is interested in presenting the artwork in the future you can contact Luke via his website. The artwork can be presented in a number of different ways. It can be exhibited indoor or outdoors, with lunar compositions played in surround sound from speakers in the space. 

In 2018, Museum of the Moon visited:
Commonwealth Games, Australia. 
British Council tour of India. 
Bangalore, Udaipur, Kolkata, Delhi, Mumbai. 
Kimmel Center, Philadelphia, USA.
Azkuna Zentroa, Bilbao, Spain. 
UZ Arts, Glasgow, Scotland. 
Tintern Abbey, Wales. 
Tall Ship Regatta, Liverpool. 
Scene Nationale de Gap, France. 
ZAT, Montpellier, France. 
Ghent Light Festival, Ghent. 
Festival Les Tombées de la Nuit, Rennes, France. 
Leicester Cathedral. 
W5, Belfast. Zsolnay Light Festival, Hungary.
Kelburn Garden Party, Scotland. 

In 2017, Museum of the Moon visited:
Aarhus, Denmark, European Capital of Culture. 
Lee Tung Avenue, Hong Kong. 
Comic Con, NYC. 
Plaisirs d'Hiver Winterpret, Brussels. 
La Caixa Foundation, Barcelona. 
Light Night Leeds UK. 
Biela Noc, Slovakia & Bratislava. 
Festival of Imagineers, Coventry, UK. 
Terni Festival, Italy. 
GOGBOT Festival, Enschede, Netherlands. 
White Night, Riga, Latvia. 
The Guildhall, Derry, Northern Ireland.  
Thinktank, Birmingham, UK. 
Greenwich+Docklands Festival, London. 
Cork Midsummer Festival, Ireland. 
Festival Les Tombées de la Nuit, Rennes, France. 
Dubai UAE. Oerol Festival, Netherlands. 
Norfolk & Norwich Festival, UK. University of Bristol, UK.

In 2016, Museum of the Moon visited:
TEC ART Festival, Rotterdam, Netherlands.  
OORtreders Festival, Belgium. 
Lieux Publics 'Travellings', Marseilles, France. 
Lakes Alive, Kendal, UK.