The Science Centres For Our Future campaign is calling on the Government to set up an Emergency Resilience Fund to support the UK's national network of over 40 Science Centres, many of which are at risk due to the measures they have had to take during the Covid-19 pandemic.
Science Centres deliver inspirational and inclusive science experiences and programmes for schools, families and children across our regional towns and cities. Many young people have their first experience of science thanks to these much-loved local centres.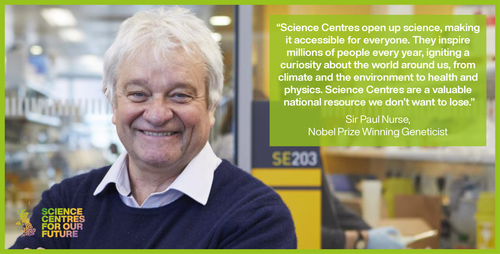 Together these educational charities welcome millions of visitors every year to science. Before Covid-19, Science Centres were successful, innovative enterprises, earning their own income from ticket sales and science events.
With no funding in sight and the pandemic far from over, 153 leaders from across the UK's scientific community have come together to highlight the importance of our national infrastructure which inspires future scientists by signing an open letter to Prime Minister Boris Johnson, Chancellor Rishi Sunak and the Secretary of State Alok Sharma.
The letter has been signed by some of the world's most famous scientists and science advocates including Professor Brian Cox, Professor Sir Robert Winston, Professor Alice Roberts, eight Nobel prize winners and astronauts Helen Sharman and Major Tim Peake.
Written by Dr Penny Fidler (CEO) and Ben Ward (Chair) of ASDC, the letter asks the government to recognise the precarious situation Science Centres are in, one severely exacerbated by the lack of central funding, and asks the Prime Minister and Chancellor to grant funds to ensure their long-term viability.
You can view the letter in full on our Open Letter page.
You can download the letter in a pdf format here.
Download the supporting press release here.
Download the accompanying data sheet.
Visit future.sciencecentres.org.uk for more information on how to take action.