Our Vision, Mission and Values
Our vision
A society where science is accessible, inclusive and valued by all as a fundamental part of everyday life.
Our mission
To champion our members, bringing them together to achieve collective impact and reach through connection, advocacy and insight. ​
Connection: We enable our members to leverage the power of the network to access partners, people and opportunities to thrive. ​
Advocacy: We give our members a greater collective voice, representing their needs and strengthening their impact.​
Insight: We share knowledge, ideas and perspectives to support our members to innovate, develop and think ahead for the future of our sector.​
Our values
Our core values are at the heart of our organisation; they define who we are, how we work, what we believe in and stand for.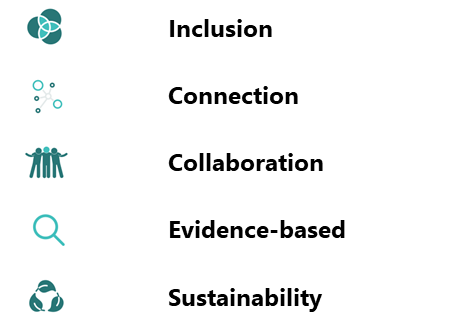 Inclusion
Through our practices and policies, we strive to create spaces and opportunities where everyone can feel they belong, focusing on equity beyond equality. Being open to always challenge and change the strategies, structures and practices we have in place that contribute to these opportunities being less equitable and inclusive.​
Connection
Focused on connection across the sector to ensure members ​feel part of the ASDC community, providing a sense of belonging and identity. Creating regular opportunities to share inspiring ideas and practice to learn from other similar organisations.​
Collaboration
Supporting our network of members and partners to embrace diversity, facilitate innovation, catalyse partnerships, and achieve more together. Exploring new ideas and opportunities, being open and open-minded to new ideas and ways of working collaboratively.​
Evidence-based
As a trustworthy organisation, we commit to using evidence to inform and justify decisions. ​We uphold our reputation for diligence, creating evidence-based science education programmes for our members, and the wider STEM sector. A key part of this approach is valuing reflective practice both internally and for our members.​
Sustainability
Through collaboration and knowledge sharing, we support members to reduce their negative impact on the environment, focusing on reducing our carbon footprints as well as adhering to ethical ways of working and observing duty of care. As the overarching membership organisation, we strive to lead by example with environmental sustainability as a core value for ASDC and the work we do.​